Health care. That's the market that's going to explode.
When I first started working in the financial industry a couple decades ago, that was the refrain I heard constantly.
All eyes were on the baby boomers. Numbering nearly 75 million, there were growing worries about their increased health needs.
We would need more doctors. More nurses. More physical therapists. More home health aides. More personal care aides.
And they were right.
The U.S. Bureau of Labor Statistics estimates that job growth for home health aides will swell by 46.7% from 2016 through 2026. Jobs for personal care aides are forecast to grow 37.4% during that same time frame.
But there is one industry that is growing even faster, creating even more job opportunities. And more opportunities to profit…
Renewable Energy: The Booming Industry
Whether you believe that climate change is an important issue or a complete hoax, the fact remains that renewable energy is a growing market all around the globe.
The U.S. Bureau of Labor Statistics reported that solar panel installers were projected to see job growth of 105.3% from 2016 to 2026.
There are approximately 260,000 Americans working in the solar industry.
In 2016, solar installations accounted for 39% of all new electricgenerating capacity, beating out all other tech for the first time ever. And for the first half of 2017, solar has accounted for 22% of all new capacity, coming in second to natural gas.
The U.S. has more than 47 gigawatts of total solar capacity now installed. This is enough to power 9.1 million homes.
Part of this phenomenal growth has come from the price of solar panels dropping. Since 2010, the cost to install solar panels has plunged more than 70%.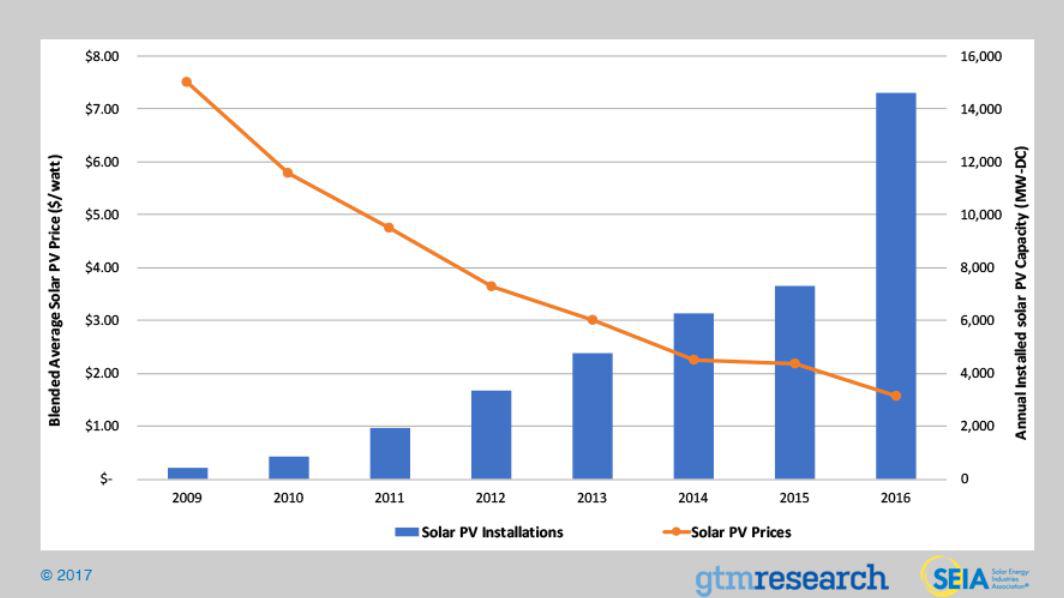 As installing solar panels has become more affordable, more residents have turned to it as a viable way to slash their energy bills and utilize a cleaner form of energy.
But solar isn't the only renewable energy that's creating a buzz of opportunities.
Wind Power Soars
Wind power is seeing significant growth as well. Wind turbine service technicians are expected to see job growth of 96.1% — double that of home health aides.
At the start of the month, WindEurope reported that European wind energy set a new record on October 28 after roughly 24.6% of the EU's electricity demand was met by wind power. This was up from the previous record set earlier this year of 19.9%.
The late-October storm that sent German wind turbines spinning resulted in the creation of 39,409 megawatts. That's the equivalent of 40 nuclear reactors.
In July, Scotland broke a record by generating the equivalent of 118% of the nation's electricity for six days.
And New York is considering a plan for adding up to 40 turbines across 60 square miles with the expectation of generating 124 megawatts. That's enough power to 20,000 homes.
New York's wind power generation has grown from 48 megawatts in 2005 to 1,827 megawatts in 2017. However, it still lags behind Texas with its wind power capacity of 20,320 megawatts and Iowa's 6,911 megawatts of wind power capacity.
The key thing is that there is still ample room for growth.
The Next Gem for Your Portfolio
As prices drop and technology continues to advance, more companies and even residents are going to flock to renewable energy as a source of power.
We are seeing more and more stories pop up regarding renewable energy farms and plants fueling our energy needs despite the falling prices of oil and natural gas.
Solar and wind power are on the rise.
But while wind and solar power frequently capture all the headlines, there is another source of renewable energy that is available just about everywhere around the globe and could see a massive boom in demand.
Profits Unlimited Editor Paul has identified a key renewable energy technology that he believes could skyrocket investors to massive gains. Click here to read his special report.
When looking for new opportunities to grow your wealth, the renewable energy sector continues to provide excellent upside potential … and a lot less uncertainty than health care.
Regards,


Jocelynn Smith
Sr. Managing Editor, Sovereign Investor Daily
P.S. A "magic" metal is on the verge of going on a remarkable tear, and investors have the rare opportunity to position themselves before this commodity's price launches to levels it's never seen before. Fortunately, Real Wealth Strategist Editor Matt Badiali has found the $2 billion company with the rights to mine this "magic" metal … and its stock is ready to take off. To learn more about this opportunity to make life-changing gains, click here.