Paul is a Wall Street legend.
He is one of the most celebrated and most successful high-tech investment analysts the Street has ever known.
And today he's revealing to you the biggest investment recommendation he's made in over seven years!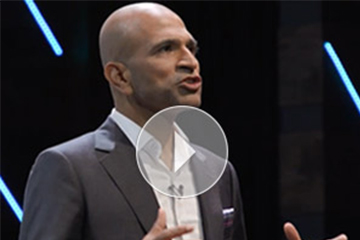 In 2012, he invested in a little-known company called Sarepta Therapeutics.
He knew this company was about to enter a breakout phase.
By the year's end, the stock's price had leapt a staggering 25-fold … turning every $1000 he invested into $25,390.
Paul made similar calls with Netflix, Facebook, Whole Foods, Olympus and many more stocks that he knew were about to enter their breakout phases.
The secret of knowing when a stock or a technology is about to enter its breakout phase is the key to making the biggest profits in the shortest amount of time.
Generational wealth can literally be made in a single year.
It's how Paul has repeatedly turned millions into billions for many clients … from Wall Street hedge funds to the Royal Bank of Scotland … from Swiss banks to European Aristocracy.
And it's why Barron's and a number of other leading traders have consistently praised his unique approach to tech investing as one of the finest and most successful in the business.
Even Kiplinger hailed him as one of the most original minds in the investment world today.
But as great as many of his calls have been, all of them could pale in comparison to the one he's about to reveal to you today.
You see Sarepta Therapeutics, and even game changers like Netflix and Facebook, only revolutionized certain portions of the economy.
But the recommendation Paul's giving you today won't just impact things like online entertainment and social media, it will impact everything from health care provision to music downloading … from money transfers to asset trading … from fiat currencies to food delivery.
In fact, every industry on the planet stands to be impacted by this dynamic little company … a company that's sure to become…
Silicon Valley's Next Great High-Tech Superstar!
That's why Paul and his team have been working around the clock to release a mind-blowing new video presentation on this company, and the extraordinary technological revolution that is spawning before our eyes.
To be one of the first to view it, and to be one of the first to learn how to get in on the biggest investment recommendation Paul has made in over seven years, just click here.
---
Legal Notice: This work is based on what we've learned as financial journalists. It may contain errors and you should not base investment decisions solely on what you read here. It's your money and your responsibility. Nothing herein should be considered personalized investment advice. Although our employees may answer general customer service questions, they are not licensed to address your particular investment situation. Our track record is based on hypothetical results and may not reflect the same results as actual trades. Likewise, past performance is no guarantee of future returns. Don't trade in these markets with money you can't afford to lose. Investing in stock markets involves the risk of loss. Before investing you should consider carefully the risks involved, if you have any doubt as to suitability or the taxation implications, seek independent financial advice. Banyan Hill Publishing expressly forbids its writers from having a financial interest in their own securities or commodities recommendations to readers. Such recommendations may be traded, however, by other editors, Banyan Hill Publishing, its affiliated entities, employees, and agents, but only after waiting 24 hours after an internet broadcast or 72 hours after a publication only circulated through the mail.
(c) 2018 Banyan Hill Publishing. All Rights Reserved. Protected by copyright laws of the United States and treaties. This Newsletter may only be used pursuant to the subscription agreement. Any reproduction, copying, or redistribution, (electronic or otherwise) in whole or in part, is strictly prohibited without the express written permission of Banyan Hill Publishing. 1880 N. Congress Ave., Boynton Beach, FL 33426. (TEL: 866-584-4096)