Income is not dead.
I know that the Federal Reserve has worked hard to convince Americans that income is dead with near-zero interest rates for years and the excruciatingly slow crawl higher from zero.
Not only is income not dead, but it should continue to be a critical part of your overall portfolio along with domestic and foreign stocks, gold, commodities and even rare tangible assets.
That's why I want to show you an easy way to boost your income in your portfolio that doesn't require the use of options and is as easy as buying a stock…
An Easy Way to Boost Your Income
Earlier this week, I talked about the importance of rebalancing your portfolio at least once a year following sharp movements in the market. And we've certainly had that.
The Dow Jones Industrial Average has gained more than 20% this year. It broke through yet another record level as it surged past 24,000 this week.
The tech-heavy Nasdaq Composite is up roughly 19%. Even the small-cap Russell 2000 Index has rallied 12%.
In the commodity space, oil has tacked on 7%, and gold has grown an impressive 12% despite strength in stocks.
But while high-flying stocks can produce some solid growth for your wealth, it's important to dedicate a portion of your portfolio to income.
And while Janet Yellen and the rest of the Federal Reserve have lifted rates several times — and are likely to do it once again later this month — we're still far off from interest rates that are regarded as normal.
Yet, there is still an easy way to boost your income.
A Hidden Income Gem
A steady flow of income is something that most of us are searching for when it comes to growing our portfolio, particularly as you get closer to or enter retirement.
The stocks of the S&P 500 Index aren't exactly wowing investors, as it returns on average a 1.93% dividend yield.
Fixed income is still struggling under low interest rates managed by the Federal Reserve. The U.S. 10-year note is yielding just 2.34%.
Utilities have long been a go-to for many investors with their long history of dividend payments. But even utilities are averaging a yield of only 3.31%.
But Matt Badiali, editor of Real Wealth Strategist, has uncovered an amazing collection of stocks within the natural resources sector that issue a steady stream of income to shareholders.
In fact, he's selected five stocks for his Real Wealth Strategist subscribers that average an annual yield of more than 7.4%. And these five stocks will pay out in the form of 44 checks over a year.
Matt calls them freedom checks.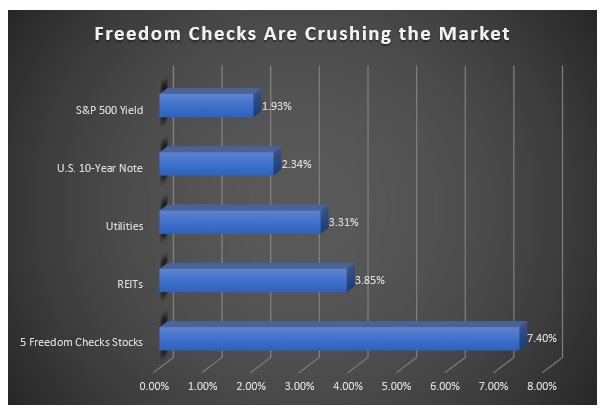 Of course, Matt didn't choose these stocks just because they have a high yield. He's also expecting to see their share value grow over time due to strength of the company and growing demand in the industry.
Achieving Portfolio Balance
Achieving the right balance for your portfolio is more than just loading it up with a bunch of high-flying stocks and the occasional blue chip.
The right balance means that you are not only growing your wealth, but protecting it against fluctuations within the market. It's rare when all sectors are rising at the same time and at the same rate. It's also rare for all sectors and investment types to fall at the same time and rate.
With the right balance, you are able to cushion any losses that you might experience in one group or sector with gains in another. And by adding a nice mix of natural resources and income to your portfolio, you'll be one step closer to getting that mix.
Regards,
Jocelynn Smith
Sr. Managing Editor, Banyan Hill
P.S. Just imagine making gains of 100% … 150% … 200% … or even more, week in and week out. With Michael Carr — arguably the world's best trader — guiding you, it's more than possible. His Precision Profits research service has delivered an incredible 6,008% in total winning gains over the last three years, and the list of triple-digit winners goes on and on. To find out why Precision Profits is the perfect way to get incredibly rich fast, click here.