The cryptocurrency marketplace is one of the greatest engines of profits in the history of mankind. And as we've seen just in the last few weeks, it's also one of the most vulnerable to crashes.
Not long ago, one man sold two Papa John's pizzas for 10,000 bitcoins. Today, those same bitcoins could buy a fleet of Rolls-Royces.
Or consider Eddy Z., when he turned 13, he received a gift of $5,000. His parents thought he would invest it in stocks.
Instead, he bought Ethereum, the second most popular cryptocurrency. He parlayed that into a college fund of over $200,000 in just two years.
Jordan T., a 21-year-old fitness instructor from Melbourne, Australia, also made a tiny investment. He bought 5,190 units of ether for next to nothing.
Then he took a trip around the world and forgot about it. Now Ethereum is trading for about $800, and that "tiny investment" is worth $4.2 million.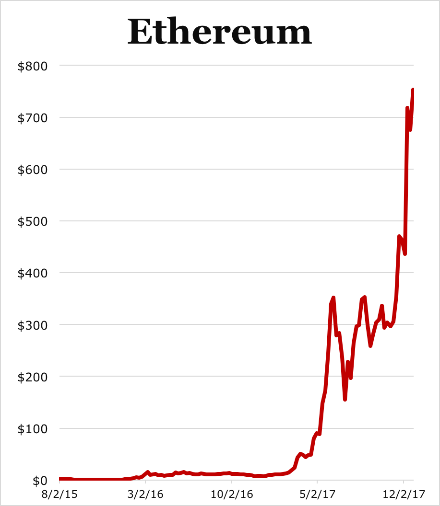 My friend's son became interested in digital currencies just a few months ago. He put $7,500 into one cryptocurrency and already has a profit of over $40,000.
And these extraordinary profits pale in comparison to the gains in recently released cryptocurrencies.
Cryptocurrency Ratings
Two years ago, if you had invested just $1,000 in an upstart cryptocurrency by the name of NEM, you'd have $2,189,905 in your account. If you had invested $50,000, you'd have $109 million.
Dash did even better. $1,000 turned into a massive fortune of over $8 million. Even with just 3% interest, that's enough to earn $240,000 per year, or $20,000 per month.
A no-brainer to buy them? Not quite.
Many cryptocurrencies are immature, volatile and vulnerable to panic selling.
There are no reliable, standard measures of value or quality.
Buying frenzies and selling panics are regular events.
It's hard for experts to separate the gems from the garbage.
It's even harder for average investors.
No, it's not a sham. But it is a shame. So I've decided to do something about it…
On January 24, I will issue the first
cryptocurrency ratings by any
financial rating agency in the world.
As you may know, Weiss Ratings, which I started 46 years ago, is the nation's leading independent rating agency of financial institutions.
We rate 55,000 institutions and investments. And unlike the Big Three Wall Street rating agencies, we never accept compensation of any kind from the entities we rate.
This is why Esquire said Weiss Ratings is "the only one that provides … ratings with no conflicts of interest."
It's why Barron's called Weiss Ratings "the leader in identifying vulnerable companies."
It's why the profit performance of our Weiss Stock Ratings was ranked No. 1, as reported in The Wall Street Journal, ahead of all major rating agencies and research companies covered, including Goldman Sachs, Morgan Stanley, Merrill Lynch and Standard and Poor's.
It's also why the U.S. Government Accountability Office reported that the Weiss Ratings of U.S. life and health insurers greatly outperformed those of Moody's, Standard & Poor's and A.M. Best.
Now, starting on January 24, we will apply that experience and know-how to cryptocurrencies, including bitcoin, Ethereum, Ripple, Bitcoin Cash, Cardano, NEM, Litecoin, Stellar, EOS, Dash, NEO, Monero, Bitcoin Gold and many others.
Our cryptocurrency ratings will be the first by a financial rating agency. All based on hard data and objective analysis.
Here's the key: The murky cryptocurrency marketplace desperately needs the clarity that only robust, impartial cryptocurrency ratings can provide.
And we're proud to be the first to bring that benefit to investors — to help you cut through the hype and identify the few truly solid, most promising cryptocurrencies that merit your hard-earned dollars.
If you'd like to be among the first to gain access, go to www.weissratings.com.
Good luck, and God bless!

Martin D. Weiss, Ph.D.
Founder, Weiss Research
P.S. In the meantime, be sure to sign up for our next major online event, the Front Line Profits Summit.
Matt Badiali used the strategy he will reveal to multiply his money 44 times. You have the opportunity to do the same.