Whenever there's a choppy market, traders typically will come out in full force.
That's because during times like this, there are bigger moves in the market, and they're going in both directions. As a result, traders can quickly capture higher short-term gains than normal.
The chart below shows the number of DARTs (daily average revenue trades) for four large investment brokerage services.
These are the trades that the companies make money on. And the data below is clear: Traders love the choppy markets.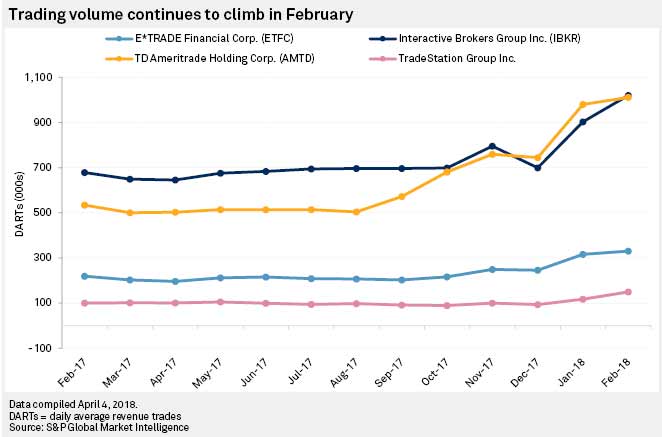 We've seen more volatility in the market in the past two months than the two years before it combined.
As a result, trading volume has increased mightily as frequent traders make their best guesses as to where the market will go next over the short term.
And even though these big market swings aren't fun to go through as a buy-and-hold type investor, they do provide a good buying opportunity.
These brokerage companies make money from commission fees; that's their main source of revenue. So, the more trades that people make using their platforms, the more money these companies bring in through those fees.
And with earnings season about to be in full force, these brokerage companies will be in the spotlight with the potential growth that all of this extra trading could bring them.
The three publicly traded stocks in the chart are E*Trade Financial Corp. (Nasdaq: ETFC), Interactive Brokers Group Inc. (Nasdaq: IBKR) and TD Ameritrade Holding Corp. (Nasdaq: AMTD), and these are all good companies to invest in to take advantage of this trend.
But if you'd prefer to diversify over the entire brokerage service industry, I would recommend buying shares of the iShares U.S. Broker-Dealers & Securities Exchanges ETF (NYSE: IAI) instead.
This is an exchange-traded fund that holds 27 different brokerage services, so it's not as risky as making a trade based on one company's performance.
Regards,
Ian Dyer
Internal Analyst, Banyan Hill Publishing