The past couple weeks have seen the market pig get introduced to the meat grinder, squealing all the way. And no industry got more ground up than lithium stocks. And that is handing you a great opportunity.
Let me show you a chart of the Global X Lithium & Battery Tech ETF (NYSE: LIT), a basket of leading lithium-leveraged stocks, to explain why.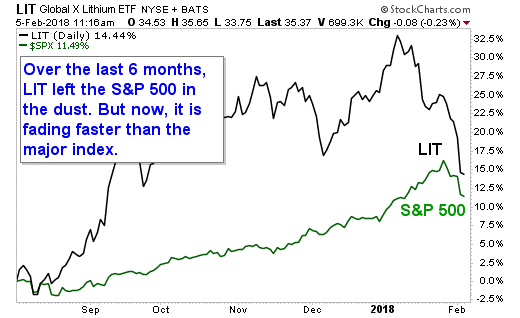 You can see that over the past six months, LIT outperformed the S&P 500, by a lot. Heck, back in early January, LIT's performance was more than triple that of the S&P 500. And the major stock index was having a great year!
But now, as the air has come out of stocks, LIT deflated like an old party balloon.
Yet this is despite the fact that the demand for lithium is getting hotter and hotter. One expert analysis says lithium demand should triple in the next few years. CRU Group expects lithium demand to jump from about 229,000 metric tons of lithium carbonate in 2017 to over 700,000 tons in 2025.
And supply? Supply won't keep up. It's not even close.
The Energy Revolution
Lithium is a leading part of the supercycle going on in energy metals. The energy market is undergoing a transformation the likes of which we haven't seen since the early part of the 20th century when automobiles replaced horses.
This time around, it's electric vehicles (EVs) taking up more of the road. They're getting longer-ranged and cheaper at the same time. We are accelerating toward an EV future.
So, how do you play this? You could buy LIT now that it's getting cheap again.
Or you could buy one of the "Big Three" lithium miners: Albemarle Corp. (NYSE: ALB), Sociedad Química y Minera de Chile (NYSE: SQM) or FMC Corp. (NYSE: FMC).
I have my favorite in that group … but you can do your own research.
You can also buy a small lithium explorer or developer. One that was already cheap and now is much cheaper.
I can think of a bunch of those. And I talked to one recently in Vancouver, Canada, at the Metals Investor Forum.
It was there that I talked to Advantage Lithium Corp. (OTCQX: AVLIF or TSX-V: AAL). I had a first-hand chat with Advantage Lithium's CEO, David Sidoo.
Advantage Lithium
Advantage is busy exploring a lithium project in the Cauchari basin. It's in the Lithium Triangle, the same part of Argentina as some other up-and-coming companies: Lithium Americas Corp. (NYSE: LAC) and Orocobre Ltd. (OTC Pink: OROCF). Orocobre is in my personal portfolio, and it's also an investor in Advantage Lithium.
Orocobre is an important partner for Advantage Lithium; it owns around 30% of the company and 25% of the Cauchari project. Orocobre is also providing expertise from its own growing pains and can provide more funding if needed.
Advantage will probably define 2.5 million to 3 million metric tons of lithium carbonate at Cauchari. The company will have a defined resource by the end of this year and hopes to have a permitted project by 2019.
But we'll see how that goes. In the meantime, you can get the scoop straight from CEO David Sidoo:
You'll see that Advantage has the right team, is in the right place and potentially has the right resource. It also has big-pocketed friends and is going full-steam ahead.
I like Advantage Lithium. I haven't gotten a buy signal yet, so I hope to buy it cheaper. When I do, I'll let my subscribers know.
Incredible Opportunities in Lithium Stocks
The fact that we may be able to buy energy metal stocks on the cheap again boggles my mind. This could be an incredible opportunity before us. And this is just one of many possibilities. So do your own due diligence and find the one that works for you.
The market pig is squealing now. But the bottom will come soon enough, and then we'll be high on the hog again. Be ready!
All the best,

Sean Brodrick
Editor, Wealth Supercycle