Elon Musk did Tesla investors a favor this week.
It might not be apparent right now. After all, Tesla Inc. (Nasdaq: TSLA) stock plunged more than 5.5% after the opinionated CEO's conference call with analysts.
But Musk's attitude during the Tesla earnings conference call is one that more CEOs should take — especially CEOs of the most speculated-upon Wall Street stocks.
The fact is, too many investors are taking a short-term view of investing. Wall Street has become a casino, where speculative investors bet on "red" or "black" for immediate returns.
No one plays the long game anymore, which is why this is my favorite Musk quote from the tense Tesla conference call:
Really, the problem is, like, people get too focused on, like, what's happening in the space of a few weeks or a few months. This is — maximum of investing should not be focused on short-term things. You should be focused on long-term things.
After ignoring questions from what he later called "sell-side analysts who represent a short seller thesis, not investors," Musk derided day traders and speculative investors. The exchange finally led to the most quoted Musk comment of the day: "Please sell our stock and don't buy it."
I applaud Musk's frankness during this exchange, and I think we could see a lot more honesty in stock prices if more CEOs took this approach. That said, despite Musk's calls to not buy Tesla stock, you should be buying Tesla for the long term.
Here's why…
Investing in the Future
I want to preface my take on Tesla stock by reiterating Elon Musk's statement: If you are looking for immediate returns or day trading, don't buy TSLA shares.
If, however, you are looking for a long-term investment in a company with its sights set on the future, Tesla stock is for you.
Tesla gets a lot of flak for delays in Model 3 production. Quite of bit of that flak is due to Musk's excitement over his company's prospects. He loves what he does, and it shows.
This throws a lot of short-term traders off-balance, as production doesn't always go as smoothly as planned. It's easy to get bogged down in the "did Tesla hit its production goals this month?" news cycle.
Still, according to this week's quarterly report, Tesla increased vehicle deliveries year over year by 19.7% to nearly 30,000 units. Some 8,100 of those were Model 3s. Furthermore, Tesla continues to project weekly Model 3 production rates of 5,000 in about two months.
It's also easy to forget that Tesla is relatively new to the mass-production scene, and that it is building its production facilities from the ground up. Production is nearly all automated via robotics, and while the Fords and General Motors of the world have had decades to perfect production, Tesla essentially started from scratch.
Once these bugs in the system are ironed out, Tesla production will soar to finally meet demand. And as a first mover in the electric vehicle market, Tesla will command a huge market share.
Many investors also forget that Tesla is not just a car company. The Model 3, Model X and Model S are all great for making headlines and demonstrate a worthy long-term investment in a shifting auto market. But the real growth potential for Tesla lies in solar energy and power storage.
Tesla Energy, formerly SolarCity, reported revenue that nearly doubled year over year to $410 million. Revenue from energy storage surged 161%. Cash flow also increased for Tesla Energy, with total residential solar deployments rising 66% in the quarter as the company moves away from SolarCity's old leasing format.
This is a continuing trend for Tesla Energy, which saw deployments rise 54% in the fourth quarter and 31% in the first quarter of 2017.
Buy Tesla Stock
Once you get past the pithy financial news headlines and the short-term speculation, you start to realize that Tesla is a long-term growth company. The road is going to be bumpy, as it has been so far.
For instance, Tesla stock is at a critical point from a technical trading perspective. The shares are currently perched on potential support at $285. This region previously acted as resistance in February and April of last year, and a breach of $285 could see Tesla trade lower for the next several months.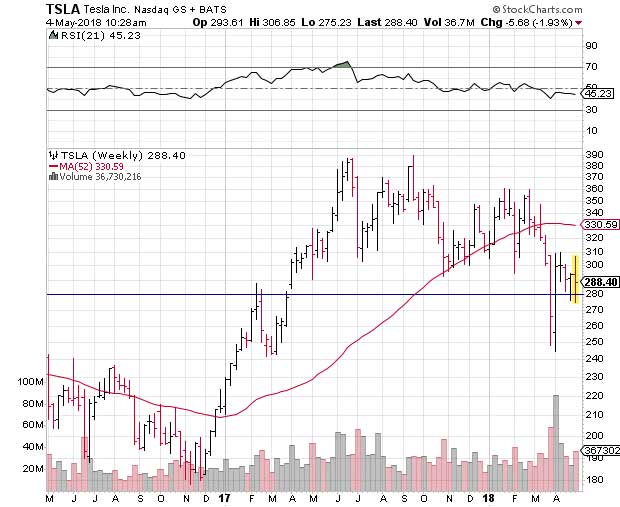 The good news is that Tesla stock is nearing oversold levels, so selling pressure should abate over the next month. If you're prepared to weather ups and downs over the short term in exchange for long-term gains, Tesla is a decent buy right now. However, I feel the shares have a bit farther to fall to work out excessive speculation.
If you're a bit more cautious, or have less tolerance for short-term volatility, long-term support lies in the $240 to $250 region for Tesla. If you're looking for a bargain buy on Tesla stock, you could wait for a pullback to this area.
Better yet, start selling $250 puts at one to three months out. This way you can collect the option premium while waiting on Tesla to fall back to long-term support.
Finally, as I've said before, the writing is on the wall for the global economy. Fossil fuels are on their way out, and renewable, green energy is on its way in.
We're at the start of a global shift in the way we create, utilize and store energy. And Tesla is at the forefront of that movement. The stock is primed to move higher … it's just a matter of when.
Until next time, May the 4th be with you!
Regards,
Joseph Hargett
Assistant Managing Editor, Banyan Hill Publishing
Editor's Note: At our Total Wealth Symposium in Las Vegas, we're bring out all of our top experts, as well the best in the business from around the world. That's because we're serious about our bold initiative to help you make an extra $1 million in the next year. This event will undoubtedly be one of the most profitable experiences of your life … however, space is extremely limited, so act now before the last tickets sell out. To reserve your seat today, click here.