Last weekend I spent the better part of an afternoon checking my hurricane supplies. Flashlights, batteries, propane, water and, of course, hurricane shutters.
These shutters — giant sheets of plywood spray-painted with labels identifying which window they belonged to — find their way onto my windows more often than I'd like.
As a hurricane veteran, I know that I need to stock up on supplies before a named storm arrives. Every season meteorologists and neighbors offer up their predictions, but somehow the results are always a surprise to everyone.
Once the "cone of probability" covers your hometown, there is a run on supplies. One of the first items to run out is plywood.
New residents and shop owners shutter up their windows to protect themselves from flying debris thrown about by these violent cyclones.
That's not the end of the story for timber products, either. Even a mild storm will   destroy fences and power poles. Severe storms can topple homes and structures.
The demand for timber increases for months after a big storm.
Take a look at the chart below of the daily price of lumber.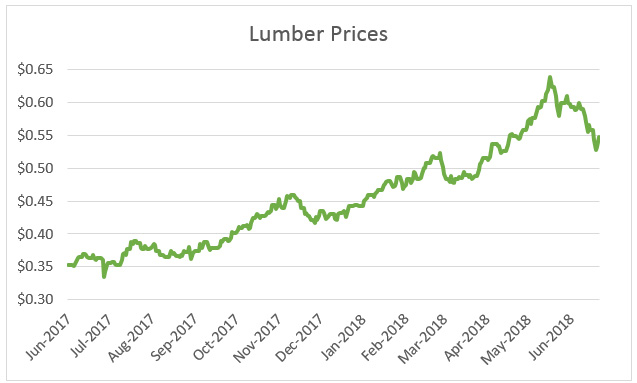 The price steadily rose following storms during late summer.
After Hurricane Irma I waited over two months for the chance to buy the wood to rebuild my fence. My neighbor and I enjoyed quite a few BBQs during that time.
This year I'm not just stocking up on supplies — I'm adding positions to my portfolio.
Storm Season Opportunity
For a raw material play, consider the iShares Global Timber & Forestry ETF (Nasdaq: WOOD). Its price is up 26% since the start of last hurricane season in June 2017.
For the retail angle, consider Home Depot Inc. (NYSE: HD), a major supplier of building and home improvement products. Its shares rose 23% in the last year.
Investments like these are a defensive play for an unpredictable storm season.
Good investing,
Anthony Planas
Internal Analyst, Banyan Hill Publishing