Paul is a legend on Wall Street.
His asset management company ballooned from $3 billion to $25 billion during his tenure. In 2008, he turned a $50 million account into $88 million, a 76% return during one of the worst years for stocks on record.
However, recently Paul left Wall Street to start a new venture on Main Street.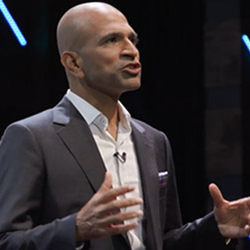 Essentially, he allows folks to look over his shoulder and see his research on the stocks he would otherwise recommend for his wealthy clients.
And the results have been incredible, with people reporting making money hand over fist.
However, Paul recently set sights on his next recommendation, calling it his No. 1 "total conviction buy" for 2019.
It all has to do with one little-known technology that is set to begin a historic surge, rising from a $20 billion industry today to one worth $15.7 trillion by 2025.
That's 76,000% growth!
But most incredible of all, Paul has identified the ONE company you need to buy before this technology heats up. It's the company that holds the KEY that will give them the lion's share of this 76,000% surge possible.
That's why Paul recently pulled out all the stops to record a presentation he gave to a group of elite entrepreneurs. While he originally intended for this presentation to be viewed by a small audience, Paul released a digital copy of his presentation to get this message out to as many people as possible.
Paul says this one company will not trade at this low level for long, once Wall Street understands its true potential.
If you watch this video within the hour, and put even a small stake into the company Paul is recommending, it could result in life-changing fortunes as this industry surges 76,000%.
You can watch a full recording of Paul's presentation here while there's still time.
---
Legal Notice: This work is based on what we've learned as financial journalists. It may contain errors and you should not base investment decisions solely on what you read here. It's your money and your responsibility. Nothing herein should be considered personalized investment advice. Although our employees may answer general customer service questions, they are not licensed to address your particular investment situation. Our track record is based on hypothetical results and may not reflect the same results as actual trades. Likewise, past performance is no guarantee of future returns. Don't trade in these markets with money you can't afford to lose. Investing in stock markets involves the risk of loss. Before investing you should consider carefully the risks involved, if you have any doubt as to suitability or the taxation implications, seek independent financial advice. Banyan Hill Publishing expressly forbids its writers from having a financial interest in their own securities or commodities recommendations to readers. Such recommendations may be traded, however, by other editors, Banyan Hill Publishing, its affiliated entities, employees, and agents, but only after waiting 24 hours after an internet broadcast or 72 hours after a publication only circulated through the mail.
(c) 2018 Banyan Hill Publishing. All Rights Reserved. Protected by copyright laws of the United States and treaties. This Newsletter may only be used pursuant to the subscription agreement. Any reproduction, copying, or redistribution, (electronic or otherwise) in whole or in part, is strictly prohibited without the express written permission of Banyan Hill Publishing. P.O. Box 8378, Delray Beach, FL 33482. (TEL: 866-584-4096)