The story of platinum and palladium tells us a lot about the auto industry — and where it is heading.
These sister metals are considered precious metals. But their main use isn't as a setting for diamonds. Both are favorites in catalytic converters used in cars and trucks.
Platinum is preferred for diesels, and palladium finds use in gas automobiles. They are an important ingredient for transforming toxic gases into more benign gases.
Platinum was once an all-star metal. It hit an all-time high of $1,877 per ounce in 2011, surpassing even gold at the time.
In 2015 it averaged a price of $1,051. But scandals in the auto industry would see prices sink even lower.
Smoke and Mirrors
Volkswagen was the first major automaker to get caught cheating on its emissions tests. Engineers programmed "defeat devices" to alter how engines performed during emissions tests.
That cheating allowed Volkswagen to market diesels with unbelievable performance. They delivered more power, better mileage and fewer emissions than their gas counterparts. It was too good to be true.
Other automakers were found to be cheating as well. Mercedes-Benz, Fiat Chrysler and Renault were all exposed to having used similar defeat devices.
Diesel cars fell out of fashion. While diesels were trying to gain a foothold in America, the European market was hit hardest. Europe has long been a stronghold for efficient diesel compacts.
Sales of diesel cars fell by an average of 15% across European markets last year alone.
With the death of diesel cars came the crash in platinum. The price of platinum plummeted 33% in 2018.
All of those diesels were replaced with gas units. Palladium rallied on the demand prospects.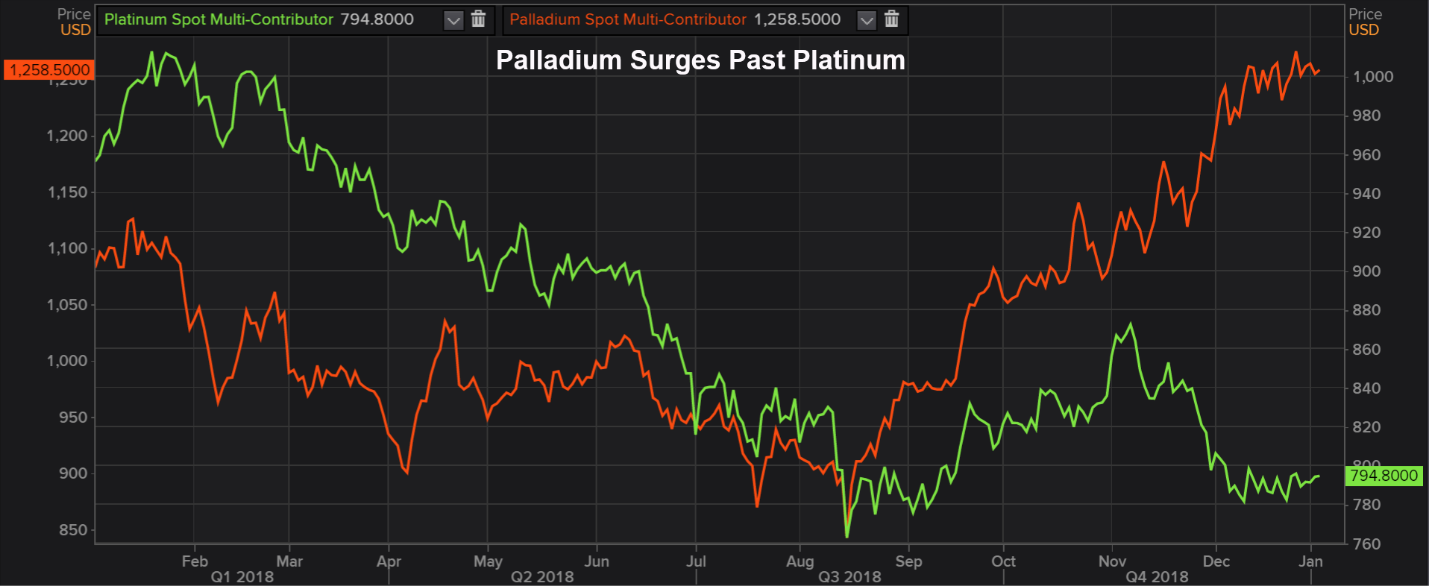 (Source: Thomson Reuters EIKON)
Palladium ran up 35% in the second half of 2018. It is now close to gold as the most expensive precious metal.
But platinum could see a recovery from a new type of motor.
A New Use
Hydrogen fuel cells offer a cleaner alternative for the heavy-duty sector. Fuel cells offer similar performance for electric vehicles (EVs) with quick fueling times and longer ranges.
Platinum is a key ingredient for making these fuel cells.
And palladium's rally isn't safe either. Slowing auto sales in China could threaten the outlook for palladium demand. And the threat of EVs could further hurt the demand for palladium.
In the short term, palladium likely has a limited upside before prices stabilize. Platinum, on the other hand, will continue its rout lower until fuel cells earn recognition as a real contender for heavy-duty use.
Watch for fuel cells to start getting mainstream attention before going long on platinum.
Good investing,
Anthony Planas
Internal Analyst, Banyan Hill Publishing