"When you're hot, you're hot / And when you're not, you're not," goes the old Jerry Reed hit from 1971.
These days, we know what's hot: FANG-type tech stocks (Facebook, Amazon, Netflix and Google).
That's important information, because if you're hunting for value in the stock market, where should you be looking?
What has a high likelihood of fetching a sharply higher price, say, not one or two months from now, but five years from now?
By that measure, you want to start investigating assets that are cheap today, but destined to rise in price tomorrow.
For that, we need to look at what's not hot…
Up-and-Down Cycles
The following chart pretty much says it all.
It shows us the price of a key commodities index (the Thomson Reuters/CoreCommodity CRB Index) relative to the S&P 500 Index.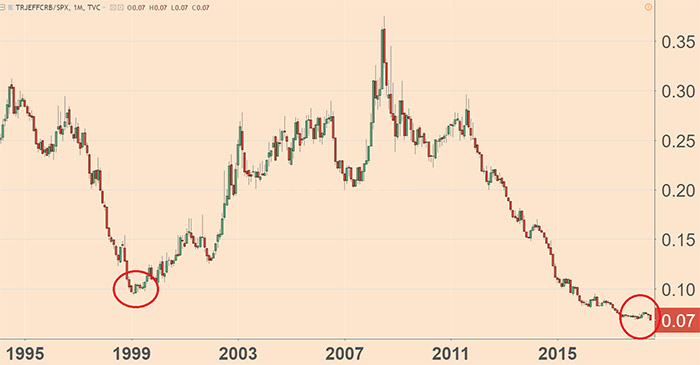 Notice the last time (circled in red) that a basket of commodities (energy, metals and agriculture) was this cheap relative to a basket of blue-chip U.S. stocks. That was in 1999, near the height of the dot-com bubble.
By October 2002, the Nasdaq Composite Index had plunged 78% from its peak.
The point here isn't that tech stocks (FAANG stocks) or the broader market are going to collapse.
I don't possess a crystal ball of that power, but I do know that asset classes go through broad up-and-down cycles that last for years as investors react to signals from interest rates, foreign trade developments, monetary policies and other variables.
And as they do, they weigh what's expensive and perhaps overvalued, versus what's cheap and possibly undervalued.
And these days, commodity stocks around the globe can be had for a song.
Will Commodity Stocks Become the Next FAANG Stocks? 
Right now, commodity stocks are dirt cheap.
That includes not just basic agricultural products like corn (down 50% from 2012) or coffee (down 40% since 2014).
What about fertilizer stocks? Many are down 40% or more since 2011.
And then there are emerging markets heavily tied to commodity prices.
For instance, Brazilian ETFs have lost more than 50% over the past decade.
The iShares MSCI Canada ETF (NYSE: EWC) dropped 16% over the same period.
Mexico-related ETFs are down 30% in the last five years.
Could commodity assets become even cheaper from here? Sure.
Just remember the lesson investors on Main Street and Wall Street learned back in 1999 and 2000. What's hot tends to stay hot — until it's not. Then, what's not hot all of a sudden can become hot. One can expect to see commodity stocks soar higher to levels much like that of FAANG stocks sometime in the future.
Kind regards,
Jeff L. Yastine
Editor, Total Wealth Insider