Amazon.com Inc. (Nasdaq: AMZN)
is going to $10.
That's what I told everyone in 2000.
In August 2001, Amazon stock went under $10.
Now, I'd been negative on Amazon on its ride up to its peak of $113 in 1999.
That's because I believed Amazon and other stocks that were purely internet-focused (they went by the term dot-com stocks) were in a bubble.
For sure, that was true. Most of those companies are now long gone.
One article that I looked up to write this article estimated that the losses from these companies were $1.7 trillion.
However, while my prediction came true, in truth, I missed a more important thing…
Keeping an Open Mind
What I missed is that the crazy valuations for stocks like Amazon and others were because the technology underpinning these companies was revolutionary, transformational and historic.
Yes, Amazon was absolutely overvalued for that period of time.
However, Amazon stock has rocketed higher by 21,568% since hitting its low of $5.97 in 2001. In fact, you'd be up by 1,044% if you bought Amazon at its highest bubble valuation level.
My point in all this is that insane, incomprehensible things in the financial markets often have greater meaning.
To be a great investor, you have to keep an open mind to things like the 1999/2000 dot-com craze or today's bitcoin/cryptocurrency mania.
When you do this, you'll be ready to pounce on an opportunity to make huge amounts of money, like those who bought Amazon after it crashed in 2001. Or other companies that built their business on internet technology, like Google and Netflix.
Cryptocurrency Technology
Right now, I'm negative on bitcoin and cryptocurrencies. However, it's very clear that the technology that underpins bitcoin — blockchain — is fantastic.
Blockchain has wide applicability to almost every business. For example, the use of blockchain will wipe out the ancient title search process everyone has to go through when you buy a house.
Another example: Blockchain has incredible use in the borrowing and lending of money, where trust and transparency are reasons why people charge high interest rates and layer on fees.
So, looking forward, I can already see how the bitcoin/cryptocurrency mania is going to benefit society by making real estate transactions and borrowing and lending easier.
Wall Street's Fat Fees
The second benefit I'm expecting to come out of the cryptocurrency bust is a cheaper way to buy and sell investments.
In a previous article, I told you how expensive it is for a company to sell shares to investors. It's one reason why initial public offering (IPO) transactions have cratered.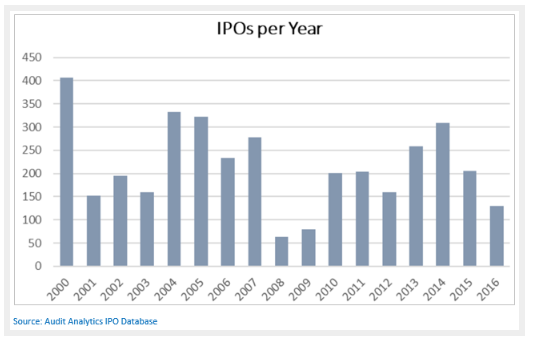 The reason for the decline is because Wall Street tightly controls the market for this. For example, Wall Street charged Facebook $176 million in fees to help it sell shares to the public.
Facebook could afford these kinds of fees, but small and medium-size companies can't.
However, cryptocurrencies, through initial coin offerings (ICOs), were able to raise over $4 billion in 2017. My research suggests that the cost of doing an ICO is as little as $60.
Nearly every company can afford $60. Most can even afford $6,000.
So another benefit that's going to come from the cryptocurrency bust is that small and medium-size companies will be able to get funding and financing, or sell stakes in their businesses, without having to pay Wall Street fat fees.
In time, I believe, you'll see coins trading on the exchanges alongside stocks.
Shine Bright Like a Diamond
Last, I believe that, over time, cryptocurrencies are going to take over the traditional role of gold, silver, and precious metals and collectibles (like diamonds, etc.).
Now, this is something that's based on my conversations with my millennial friends. They have little or no interest in these kinds of tangible assets. Instead, they prefer digital or virtual assets.
The Bottom Line on a Cryptocurrency Bust

The lesson to learn when you see a bubble or mania is to find what the long-term benefits are.
For the cryptocurrency bust, once the dust settles, I'll be looking for stocks, assets or investments that have the things I laid out for you — blockchain technology and ICOs.
Finally, the cryptocurrencies that survive are going to be like digital gold, silver and diamonds.
Regards,
Paul Mampilly
Editor, Profits Unlimited
Editor's Note: We've all heard stories of how explosive natural resource stocks can be … such as Ventana Gold, which soared 10,558%. The goal of Matt Badiali's new research service is to put a small amount of money in a dozen high-potential stocks like this each year. Even if just one turns out to be the next Ventana Gold, $5,000 could snowball into half a million dollars before you know it. To find out how Matt's strategy finds these life-changing opportunities, click here now to sign up for his special webinar.