Investors have focused on the easiest source of income out there: dividend stocks.
After all, the normal avenues to collect income have been minimal since the financial crisis.
But not everyone knows what to look for in a good dividend-paying stock.
Is it a high yield, strong fundamentals or a soaring stock price?
It's actually none of those.
Instead, I have one chart that shows you everything you need to look for. Take a look: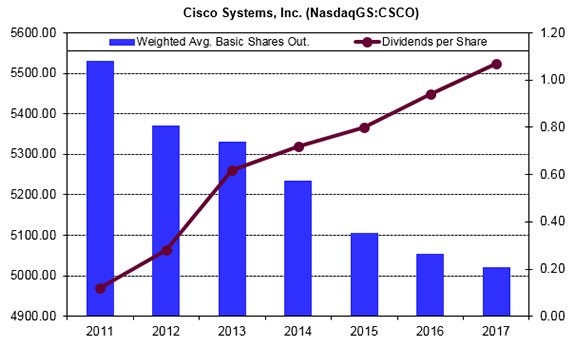 The one thing I look for in any income stock I recommend is its ability to return cash flow to shareholders. It's the most important thing.
Cisco Systems Inc. (Nasdaq: CSCO) has been picture-perfect since 2011.
That's when the company started paying a dividend. And its dividend has climbed steadily since then.
This is the first thing you want to find in a company: consistently increasing dividend payments.
This shows that its cash flows are real, not something that's manipulated on its financial statements.
Cisco also focuses on share buybacks. As you can see by the blue bars on the chart, it has reduced shares outstanding since 2011.
However, this doesn't always appeal to income seekers.
That's because it isn't a direct form of income. But it is a way corporations can essentially return cash to shareholders.
See, as a company buys back shares, it's also increasing its earnings per share. When the number of shares outstanding is reduced, earnings are then spread over fewer shares.
This increases earnings on a per-share basis, which is how companies are valued. So boosting earnings per share increases share price, resulting in capital gains for shareholders.
That's why this is the one chart to use to identify your next income stock, and Cisco is a great example.
Regards,


Chad Shoop, CMT
Editor, Automatic Profits Alert