Everyone's trying to get a clue on where bitcoin is heading.
It is the largest cryptocurrency on the market. And after sliding lower since the start of the year, it's currently in a bear market.
Crypto bulls have been clamoring to buy it all the way down. At the same time, you have the bears in your other ear claiming this is just the start of a collapse that will send the value to practically nothing.
There's never been more uncertainty around an asset that is as widely covered as bitcoin.
Investors are simply unsure of the next major move.
But this chart of bitcoin is quickly revealing that direction — and it's bullish right now.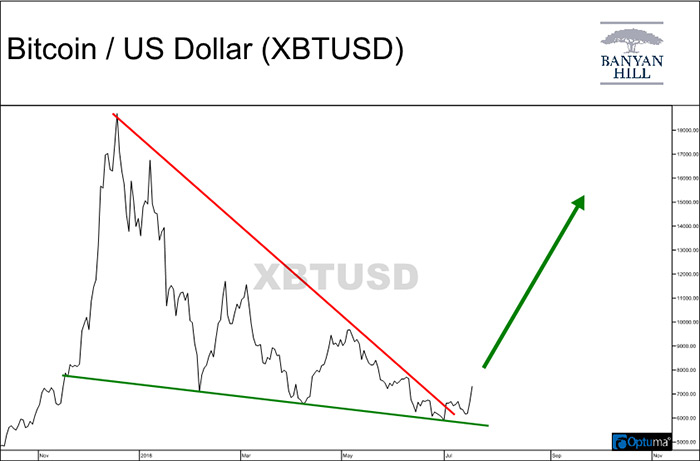 The volatile asset has been trading in a downward wedge pattern all year. It's making lower lows and lower highs at the same time.
But the lows are turning around at a slower slope than the highs, which creates the wedge formation you see in the chart above.
Bitcoin surged 10% on Tuesday to officially climb out of this downward wedge formation.
You can expect to see much more buying pressure on bitcoin. We want to see this rally go above the previous major high of around $10,000 or 42% above its current price.
If it fails to hit that level, then this could be a false breakout.
A Bullish Breakout
For now, the trade is bullish, and I'm expecting to ride it higher from here.
Readers of Automatic Profits Alert are already long bitcoin. And this bullish breakout means we are on the right side of the trade.
Regards,
Chad Shoop, CMT
Editor, Automatic Profits Alert