Today, we look forward to the end of February with markets trading near all-time highs across the board. With March ushering in a fresh start, the Stock Trader Alert system has responded with six new positions.
Before we dive into the new trades, it's worth pointing out that our exchange-traded fund (ETF) continues to hit new highs. February was a burner for the SPDR S&P 500 ETF (NYSE Arca: SPY), which added roughly 3.9% for the month and is now up nearly 10% overall. (For more information on returns, see our backtesting data and the full portfolio history.)
As for those trades making it past the whipsaw rule this week, we are looking at six new portfolio holdings, which means saying goodbye to six existing holdings.
Remember that to fully participate in this portfolio, you need to purchase all 10 stock positions and the ETF position.
The Stock Trader Alert Portfolio
If you've already established a position in the portfolio, here are your new trades: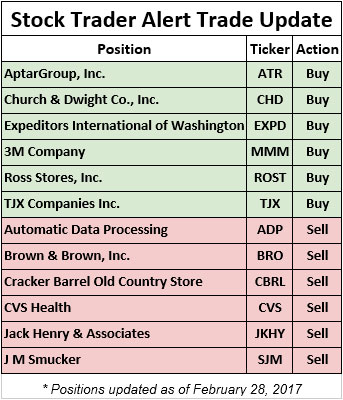 We continue to hold 50% of our portfolio in the SPDR S&P 500 ETF. We're up nearly 10% in this position.
The remaining 50% of your portfolio should be divided evenly among the following 10 stocks:
After you make today's new trades, please take a moment to send me an email letting me know how the trading process went. Were the directions easy to follow? Do you have any questions about the overall system?
You can contact me at stocktrader@banyanhill.com. I appreciate every bit of feedback you send my way.
Kind regards,


Ted Bauman
Editor, Stock Trader Alert