Welcome back from the Christmas break! I hope you had a wonderful holiday with family and friends.
I'm happy to say our system continues to steadily outpace the S&P 500's returns. In fact, so far this year, our portfolio has gained 18.37% compared to the S&P 500's 10.76% gain.
And today we're looking to build on those gains.
For today's recommendations, our system has triggered four new trades: two buys and two sells for those who have established a position in the portfolio. Please remember that to fully participate in this portfolio, you need to purchase all 16 positions.
With this Stock Trader Alert system, we designate half the portfolio to our stock positions (no more than 15 stocks at a time) and the other half to one exchange-traded fund (ETF).
If you've already established a position in the portfolio, here are your new trades: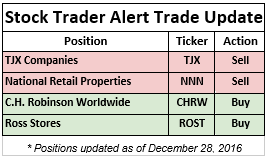 The Stock Trader Alert Portfolio
We continue to hold 50% of our portfolio in the SPDR S&P 500 ETF (NYSE Arca: SPY).
With the remaining 50% of your portfolio, we are currently holding these stocks at the following allocations: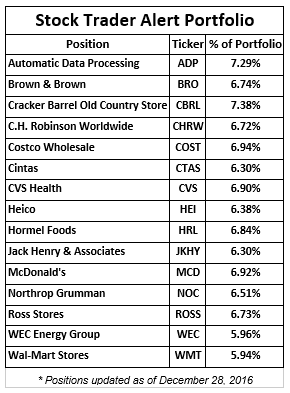 After you make today's new trades, please take a moment to send me an email letting me know how the trading process went. Were the directions easy to follow? Do you have any questions about the system?
You can contact me at stocktrader@sovereignsociety.com. I appreciate every bit of feedback you send my way.
Happy holidays,

Ted Bauman
Editor, Stock Trader Alert