On Thursday, Apple Inc. (Nasdaq: AAPL) made history in becoming America's first $1 trillion company.
It's a monumental feat.
The next closest company to $1 trillion is Amazon.com Inc. (Nasdaq: AMZN), sitting at roughly $895 billion.
We are entering an era of trillion dollar companies. I think we'll get several more because this bull market isn't over — and that's apparent in Apple's price reaction after its big trillion dollar moment.
Take a look:
AAPL Intraday Chart From August 2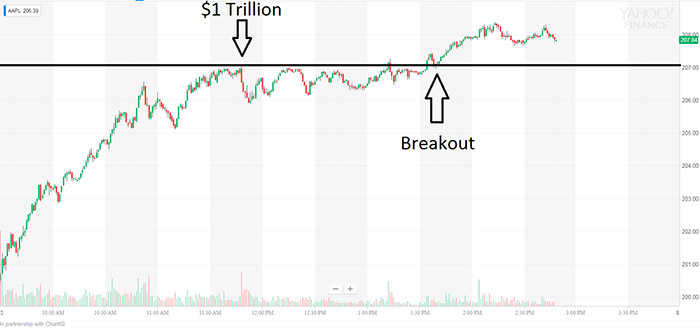 On the intraday price chart for Apple, you can see the price briefly hit $1 trillion, then pull back.
But bullish investors didn't give up. They bought more stock to keep the company testing that key $207.50 level to help it push past the sticky trillion dollar mark.
They were successful.
By 2 p.m. that day, shares broke out higher, pulled back to test the same level, then took off.
If you are bullish on Apple, or even the stock market, this is exactly what you wanted to see.
The mythic $1 trillion market cap could have acted as resistance for the stock. After all, to avoid a frenzied race to $1,000 a share with Google four years ago, Apple was wise and did a split.
The trillion dollar mark could have attracted a similar feeling, making it tough to attain.
But with Apple's solid earnings report, even with lower iPhone sales than expected, the stock managed to break out.
And when you look at the stock over the past year, its breakout is even more promising on a daily chart. Take a look:
AAPL 1-Year Daily Chart
Apple's strong second-quarter results didn't just push the stock into the trillion dollar category. They also solidified a major breakout on its annual price chart.
It was hitting a strong resistance trend line that had been tested four times before.
Earnings helped the stock break out above that, and that signals Apple's trillion dollar moment is sparking a new rally for the stock.
Now's a great time to jump in.
Regards,
Chad Shoop, CMT
Editor, Automatic Profits Alert