Tesla's "Smart Summon" Feature Takes Self-Driving Cars to Next Level
---
Story Highlights:
Tesla's mind-boggling "Smart Summon" feature takes self-driving cars to a stunning new level.
Here's a surefire way to invest in the electric vehicle revolution Tesla is leading.
---
"It's moving on its own!"
My mother, not quite believing her own eyes, was witnessing history in the making at Tesla.
We were at a South Florida dealership, where I'd taken her to check out Tesla's new "Smart Summon" feature.
A salesman demonstrated how the feature lets you use your cellphone to navigate the car by remote control — backing away from the curb, then coming back to pick us up for a test drive.
"There's no one in car," I confirmed, looking through the windshield. "He's going to push the button. And it's coming back. So beautiful. I love it."
Mom: "Oh, this is something else."
Indeed it is.
Elon Musk has done it again.
And it was great to have Mom with me to partake in my favorite pastime: test-driving new cars.
Tesla has always piqued my interest. I love learning about the company's latest and greatest innovations in automotive technology.
I am just completely floored by all the amazing tech these electric vehicles (EVs) feature.
During my visit, I took the Tesla Performance Model 3 and Performance Model S for a spin.
Both cars far exceeded my expectations and gave me a great firsthand education on EVs.
The Performance Model S seen in my home video included the Smart Summon feature. This is when the car remotely drives toward you with no one in the driver's seat.
Mom and I were astounded, witnessing this special summoning feature for the first time.
From their all-wheel drive dual motors, to the in-cabin 15- to 17-inch touch screens to access all driver controls, Teslas are state-of-the-art vehicles.
And don't forget what Tesla calls the "ludicrous mode."
This high-performance feature propels the vehicle from zero to 60 mph in 2.4 seconds with instant acceleration. I personally experienced this heart-pounding takeoff. It was a "wow" moment.
Being a cutting-edge EV manufacturer, Tesla is always looking ahead.
Last week, the company rolled out an over-the-air Version 10.0 software update for all Teslas worldwide.
This is touted as its "biggest software update ever."
This software update includes new features such as:
Spotify Premium — a high-tech music-streaming platform.
Tesla Arcade — an in-car video gaming system.
"Caraoke" — a fun sing-along feature for all who like
And the…
Smart Summon, which enables full self-driving capability or enhanced autopilot-installed Teslas "to navigate a parking lot and come to [you] or [your] destination of choice, as long as [the] car is within … sight."
EVs like Teslas are becoming more popular.
I know. I see my fair share filling the roadways.
With EVs touting such high-tech features as self-driving capabilities, it's only a matter of time before you see more and more EVs on local roads.
Some of them driving themselves or picking up passengers without anyone behind the wheel.
According to Statista, the size of the global market for electric vehicles is projected to rocket 377% higher, to $567 billion by 2025.
Now, we here at Bold Profits pay close attention to pure EV companies like Tesla. But we would be remiss not to keep an eye on the major EV transformations happening at established internal combustion engine (ICE) car manufacturers.
Even they realize it's time to embrace the new-world technologies that are disrupting the auto industry.
Take Daimler AG, owner of Mercedes-Benz, for instance.
According to Electrek and German magazine Auto Motor und Sport, Daimler announced it currently has "no plans to develop a next-generation combustion engine and they are focusing on new electric powertrains."
Per Bloomberg data, Mercedes-Benz plans to produce five battery electric vehicles (BEVs) by 2022, with five more in the production pipeline.
In all, Mercedes-Benz hopes pure EVs will account for up to 25% of its car volume by 2025.
And it's not just ICE car manufacturers making the change.
CNBC recently reported that for the first time, a U.S. gas station — in the state of Maryland — now plans to stop selling gas and open a 100% EV charging station.
"There are more than 20,700 registered electric vehicles in Maryland, and the area also has an electric taxi service in need of more charging infrastructure," the article noted.
Also, fast-food restaurants are making room for EVs, especially in Europe.
CleanTechnica is reporting 55 charging stations have been installed at McDonald's restaurants across Sweden. CleanTechnica also reported McDonald's plans to open 168 fast-charging stations across the Netherlands.
So, customers are now able to "McCharge" while buying their Big Macs.
No. 1 Stock Today for EV Self-Driving Revolution
A promising new way to play the disruptive EV technology and self-driving revolution is with the brand-new exchange-traded fund iShares Self-Driving EV and Tech ETF (NYSE: IDRV).
Created in April of this year, the exchange-traded fund (ETF) aims to give investors:
Access to companies at the forefront of self-driving and EV innovation.
Exposure to global stocks along the full value chain of self-driving and EV industries, across sectors and geographies.
Long-term growth with access to companies that can shape the global economic future.
So, now is a great time to get in near the ground floor of the EV revolution.
Personally, I'm seeing more and MORE Teslas on the local roads with each passing day.
At one point, I saw five Teslas in a row traveling down the road and thought it was a convoy … but no, they were regular folks going about their daily business. They just happened to be driving Model 3s and Model S's.
And, while waiting at a stoplight just the other day, I saw a lovely rainbow arching across the sky and had to take quick snapshot.
And now that I look at the photo, guess what's captured at the end of the rainbow?
A Tesla.
So, instead of finding a pot of gold at the end of the investing rainbow, you'll hopefully see a good return on your iShares Self-Driving EV and Tech ETF investment as the EV revolution takes off.
Until next time,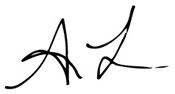 Amber Lancaster
Director of Investment Research, Banyan Hill Publishing