August 5, 2011, was one of those historic days we hope never repeats. On that day, Standard & Poor's (S&P) downgraded the United States' credit rating from AAA (outstanding) to AA+ (excellent).
The downgrade wasn't a shot out of the blue. Everyone saw the problem coming. It was caused by a few folks in Washington. Congress was fighting with the president. Neither side wanted to compromise, and the impasse almost shut down the government.
S&P's downgrade was a response to a problem that took time to develop. Traders had time to see the shutdown coming. Many sold before the news made the headlines. The S&P 500 topped in early May and fell more than 20% in 2011.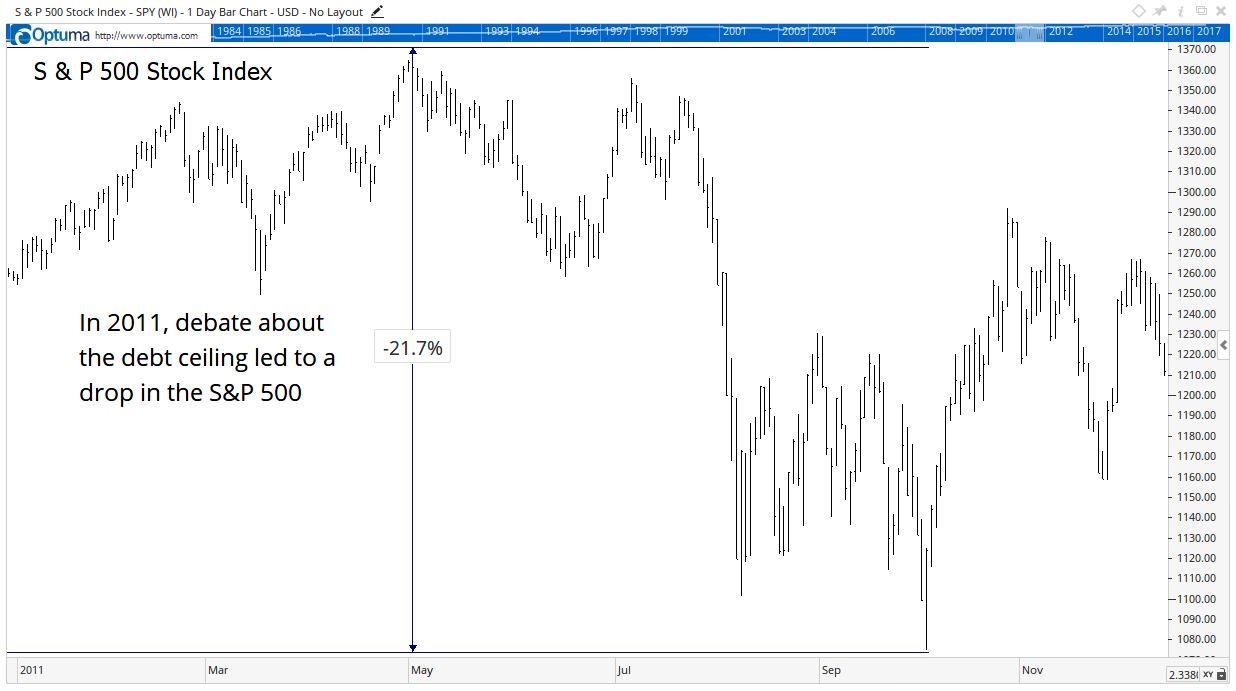 You might be thinking this was a bear market. Purists define a bear market with the Dow Jones Industrial Average. The Dow fell about 19.6%. So, that doesn't count as an official bear market to some. That is not how I think, but that's an article for another day.
What's important for today is that history could be about to repeat. The government is likely to hit the debt ceiling in early September. It could happen sooner since year-to-date tax revenue is running about 3% below the Congressional Budget Office's projections.
Congress needs to act soon. It takes the month of August off. That means it needs to increase the debt ceiling by the end of July or risk a crisis.
The easy answer is to simply pass a law raising the debt ceiling. That's possible. But more likely are threats of a government shutdown. There is always a risk that one senator gets carried away and forces a shutdown. It's happened before, and the architect of that action is worried someone will do it again.
A shutdown, or a threatened shutdown, or the failure to raise the debt ceiling could lead to a stock market sell-off. With Washington acting more partisan than ever this year, the probability of a problem is high. The deadline for traders is the end of July. By then we will know if Congress decided to cause a bear market.
Regards,



Michael Carr, CMT
Editor, Peak Velocity Trader
P.S. Banyan Hill asked 100 ordinary people to try out a new research service based on Chad Shoop's Earnings Drift system, and they simply couldn't believe how fast they were making money … or how easy it was to do so. Now you finally have the opportunity to join them. Click here to sign up for the Earnings Drift webinar and find out how you can turn every $10,000 you invest into an extraordinary windfall of $160,000 in just one year.