The Sharing Economy: Cheaper Alternatives to Lodging and Travel
"Where did all these scooters come from?"
If you live or work in a city, that's the question you were asking about a year ago.
Companies like Bird and Lime took the nation by storm. Seemingly overnight, hundreds of scooters popped up in cities all over the country to help people get where they need to go faster.
And despite several efforts to get rid of them, it looks like these scooters are here to stay.
After all, they're easy to use, convenient and on just about every corner. In Baltimore, where I work, I see people on them every day.
Bird and Lime have now expanded into over 100 cities worldwide. Investors value them at billions of dollars.
Just a couple weeks ago, Lime, a company that offers public bike and scooter services, received another $310 million in funding. That brings its overall valuation to $2.4 billion.
That's impressive for any company, let alone one that's barely two years old.
Its main competitor, Bird, which is scooter-only at this point, is also valued at about $2 billion. And it's even younger than Lime — not even 18 months old.
Although the concept of bike-sharing has been the norm in major international cities, it's new to most of the United States. And it's part of a much larger trend that's emerged over the past several years: the sharing economy.
The Sharing Economy in Today's World
This part of the economy has proven to be extremely popular with millennials. And with about 82 million people in that demographic, they're a huge driving force that's growing the sharing economy every day.
But where exactly does the sharing economy fit in today's world?
It's hard to pin down with such a diverse number of opportunities. After all, "sharing" can come from ride-sharing, crowdfunding, food delivery, home rental, freelancing … and the list goes on.
If there's one trend that you can see with millennials, it's that they prefer to spend money on experiences rather than material goods.
About 75% of them share that view. And about 79% say that going to a live event makes them feel more connected with the world.
When you combine these two statistics, it makes it clear that traveling is right up their alley.
And when people travel, they need somewhere to stay, of course.
Airbnb is the frontrunner in that space, but it wasn't the first.
A service called VRBO has been around since 1995. VRBO offers unhosted vacation homes, as opposed to actually sharing a place with the owner.
And with dozens of similar services on the internet, travelers can always find somewhere to stay.
An obvious perk of renting a home is that it's much cheaper:

Ride-Sharing Is Cheaper Than a Cab
Another part of traveling is figuring out how you're going to get around once you're at your destination.
Are you going to deal with renting a car? Sounds like a lot of annoying paperwork, fees and confusion about insurance coverage.
Most places will have some sort of subway or bus system, which is OK. But believe it or not, the sharing economy can improve on that.
With ride-sharing, you can be picked up and dropped off wherever you want. Plus, in a lot of cases it's cheaper than taking a cab: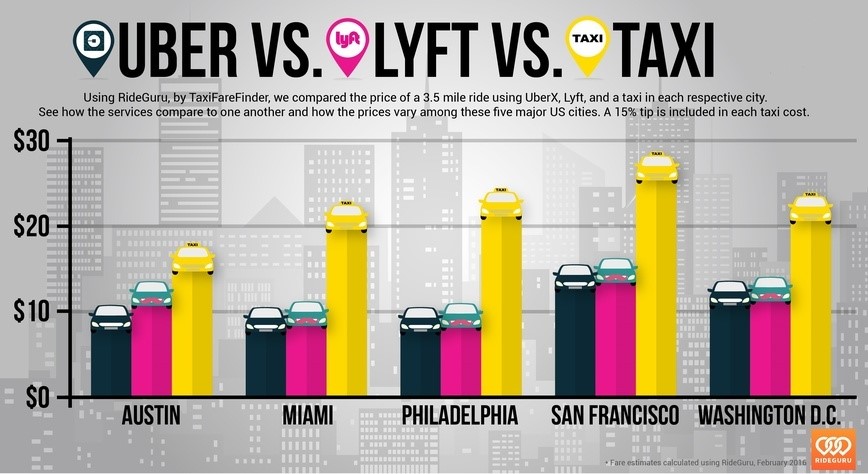 Uber has expanded to 65 countries all over the world, and is the dominant force in ride-sharing.
Of course, there's also Bird and Lime, which have expanded into even more areas in just two years. That shows the true demand for these types of services.
Overall, transportation and accommodation make up about 19% and 20% of the sharing economy, respectively.
Invest in a Potential Trillion-Dollar Market
The sharing economy, headed by Uber, Lyft and Airbnb, is set to play a big part in the global tourism industry.
This is one of the biggest industries in the world. By 2025, it's expected to be valued at about $11.4 trillion.
That's 10.6% of global gross domestic product!
At this pace, it would not surprise me if the travel-related sharing economy took at least a 10% market share by 2025. That would be a $1.14 trillion market.
When you consider that Uber alone has been valued at $120 billion, it's a realistic possibility.
Add the $25 billion Lyft valuation and $38 billion Airbnb valuation, and you have $183 billion in just three companies.
So, what's the best way to invest in this potential trillion-dollar market?
Most of these companies are currently private. However, you can get a head start in investing in them by buying the First Trust U.S. Equity Opportunities ETF (NYSE: FPX).
So far, this exchange-traded fund (ETF) is up about 17% in 2019. And this is just the beginning of a long-term rally.
Four weeks from now, Lyft plans to launch the "roadshow" for its initial public offering. It will be the first U.S. ride-sharing company listed on the stock market.
As more sharing-economy-related companies go public, we'll see FPX continue to soar for years to come.
Regards,
Ian Dyer
Editor, Rapid Profit Trader