Satellite Internet Pioneers Started a New Space Race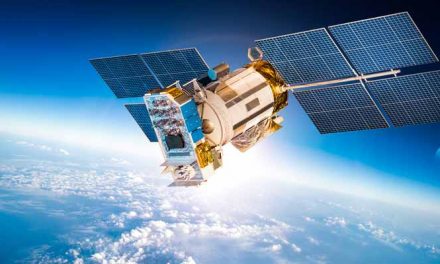 When Microsoft co-founder Bill Gates wasn't busy forming the way we use computers, he was already planning how satellite internet would be the next step.
In 1994, his startup, called Teledesic, revealed a $9 billion plan to launch 840 satellites into space to give internet to the whole world.
It had trouble right out of the gate.
The plan changed to a more modest 288 satellites in 1997. By the end of 2002, Teledesic had filed for bankruptcy.
At the time, Teledesic had some competition in Iridium and Globalstar.
The two companies are still around today despite filing for bankruptcy in the early 2000s as well. You can buy their satellite phones for around $1,000.
It's a seemingly hefty price for something that looks straight out of 1995. And that doesn't include the data plan, which through Iridium costs around $1 per minute.
So overall, the concept of satellite technology hasn't materialized to a point where most people can, or even want to, buy in.
Now a second wave of satellite companies has popped up.
For the past decade, they've been working hard to make this technology available to the public. And right now, it's looking a lot more promising than round 1.
The Second Wave of Satellite Internet
One of the emerging leaders in satellite internet is SpaceX, a company headed by Tesla's Elon Musk.
Last year, it received approval from the Federal Communications Commission (FCC) for its Starlink project.
This enormous project involves launching 11,943 satellites into space to completely cover the world in internet. It's expected to begin this year.
In terms of volume, this plan far surpasses any other. There have only been about 8,000 objects put into space in all of history.
And on February 1, SpaceX submitted another application to the FCC requesting permission to set up 1 million stations here on Earth. The point of these stations would be to interact with and test the functions of the satellites.
A company taking the opposite approach is Viasat.
Instead of sending thousands of mini-satellites into space, it plans on launching two huge satellites.
This operation would cost about $1.4 billion, which is much cheaper than SpaceX's plan. And even though it's just two satellites, they'd have twice the power of all 400 satellites currently in space.
Viasat has also been able to bring Wi-Fi to Mexico using its current satellite fleet. That project began in 2016, and now over 1 million people in Mexico have easy access to this service.
Satellite Startups
There are several other startups making huge strides in this field as well.
One example is Loon, a Google startup that was founded in 2011.
Although it was originally considered a long shot, Loon has had huge success.
Most recently, it partnered with Canada's satellite internet leader, Telesat, to use its software with Telesat's satellites.
Another startup is OneWeb, a company started in 2012 that plans on putting 600 internet satellites into space by 2027.
OneWeb is currently at the cusp of its first launch, which is tentatively scheduled for February 19.
These satellite internet services will go far beyond what we can achieve with cell towers.
Private Firms Have Been Buying in Like Crazy
Right now, only about 55% of the world has internet access, leaving enormous room for growth.
In Africa, more than 1 billion people don't have regular internet access. China is close to that as well, with about 767 million people without it.
So there's a huge market for this technology. And the competition that's emerged is looking like a second "space race."
Because of the incredible momentum that satellite internet has seen over the past year, private equity firms have been buying in like crazy.
In 2018 alone, over $3.25 billion was invested into these startups, an increase of 29% from 2017. It was the biggest year on record by a long shot.
From 2009 to 2018, about $18 billion has been invested in these companies. 2018 alone made up about 18% of that total.
This industry is expected to grow rapidly over the next 10 years. In 2019, an estimated $4 billion in revenue will be generated across the whole satellite internet industry.
However, that number is expected to grow 450% by 2024, and then another 86% by 2029.
Overall, that's growth of 925%!
Because the amount of publicly traded companies that are working on this is small, there aren't any exchange-traded funds (ETFs) to take advantage of at this time.
As the industry develops more, I'll be on the lookout for a good ETF investment opportunity.
Regards,
Ian Dyer
Editor, Rapid Profit Trader