If you go into any factory today, you'll see a lot of robots. You know this already because I've been telling you that the robotics field is one component of the Internet of Things mega trend. So far, however, you most likely haven't seen any robots come into places like restaurants, stores, hospitals, airports or other service points at businesses where we expect people to deal with humans rather than machines.
But I believe that's all about to change.
And that's because my research shows that service-ready robots are already being introduced into these areas … and their rollout is beginning to accelerate.
That means, one day soon, you're going to walk into a store and be shocked to be greeted by a robot instead of a human being. As this natural progression occurs, the stocks of companies that make robots are going to rocket even higher than where they are today. And I have one way for you to get in on this growing trend.
Paul Mampilly's Profits Unlimited Hits 60,000 Subscribers
You can buy the Robo Global Robotics and Automation Index ETF (Nasdaq: ROBO), which owns most of the robotics companies around the world.
I first told you about this exchange-traded fund in December of 2016, and since then, this ETF has surged higher by an incredible 21%, all due to the increasing use of robotics. In fact, in comparison, the S&P 500 has only gone up by a meager 6% in the same period.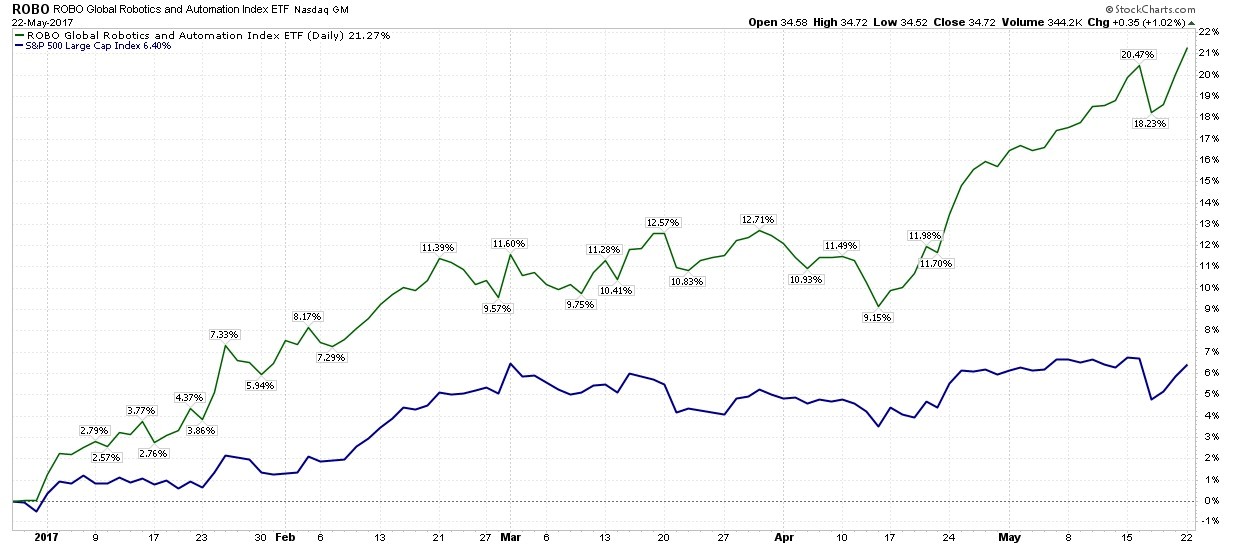 Now, it's still not too late to get in on this ETF. And if you'd like a more specified way to target this growing sector, you should look to get in on my just-launched True Momentum service. In it, I'll show you where to look to get in on the individual stocks contained in ROBO … just as they're about to take off.
Regards,


Paul Mampilly
Editor, Profits Unlimited
P.S. I have dozens of examples of my True Momentum strategy successfully targeting companies that were despised by Wall Street and the financial media. One of my favorite such examples is iRobot, the company that makes Roombas and other cleaning robots. I invested in iRobot in October 2008 — during one of the worst economic times in U.S. history — and my strategy paid off big, giving me a profit of 198%. I believe True Momentum's performance speaks for itself, so click here to find out how great it has worked for me over the last decade.