Peyton Manning Playbook: Catch 3D Printing Market's 300% Growth
---
Story Highlights:
Retired NFL quarterback Peyton Manning is a lock for the Hall of Fame in 2021, but he never would have made it there without spinal surgery advances that are getting a next-gen 3D-printing upgrade.
Here's your best bet to score massive gains by investing in the 3D-printing market's projected 300%-plus growth.
---
"You OK, Nick? Coach, maybe we should call an ambulance."
My friend's voice cut through the buzzing in my head like a siren.
The last thing I remembered (before everything went black) was getting blindsided during high school football practice.
When I came to, I was flat on my back, my teammates huddled over me in a bizarre ring of gold-and-brown helmets. The hit had left me with a concussion and a herniated disc. And at that time, it meant that was my last day as junior varsity quarterback.
Luckily that was not the case for superstar NFL quarterback Peyton Manning.
Like me, he suffered a herniated disc that left him unable to throw the ball. But thanks to an advanced spinal technology, he returned (maybe better than ever) to the field.
After multiple surgeries — to remove the damaged disc and replace it with a small metal implant — Manning became the oldest quarterback (at age 39) to start and win a Super Bowl, for the Denver Broncos in 2016.
Today, a little-known Indiana company is taking this technology to the next level.
It's found a way to use 3D printing to create titanium implants to replace injured spinal discs.
This is great news for people with back and neck injuries. It will cut the cost and boost the effectiveness of the spinal-implant procedures millions of Americans undergo.
But it also underscores the stunning reach of 3D-printing advances — breakthroughs that spotlight a huge investment opportunity I'm going to tell you about today.
The company, Nexxt Spine, is privately held, so you can't buy stock in the firm. Not yet, anyway. But today I'm going to tell you about a great way to leverage the 3D-printing boom. It's an investment play that gives you exposure to 56 3D-printing stocks for the price of one…
The MVP Strategy for 3D Printing's 300% Surge
Nexxt Spine has developed what many spinal specialists see as the next evolution in the type of spinal-implant and fusion surgery Manning underwent.
The company has developed a way to create 3D-printed titanium discs that essentially create a scaffolding to support the spine and promote new bone growth in and around the discs. You can see how it works in this YouTube video and the photo below (courtesy of Nexxt Spine).
The company's 3D-printing advance is likely to make surgeries like Manning's even more common — and affordable for the tens of millions of Americans who suffer from herniated discs and spinal cord injuries.
The U.S. spinal-implant market is valued at $6.05 billion (as of 2018) and projected to grow between now and 2025. But when you throw 3D printing in there, I believe the sky's the limit for how high the market could soar.
Not only will it help a ton of people like Manning and me (sorry, I couldn't resist putting myself in the same sentence with the 2021 Hall of Fame nominee), but it clearly underscores the phenomenal investment potential of 3D printing. After all, Nexxt Spine is just one of the many 3D-printing companies that are shaking up industries around the world.
The medical applications alone are staggering. So much so that biotech engineers have coined the term "3D bioprinting" to describe the use of "bioink" (composed of human tissue and cells) to produce organs (hearts, livers and kidneys).
The technology allows for cheaper, better and faster production of replacement body parts, as well as the ability to customize them so they are tailor-made for particular patients.
I believe it is one of the most interesting and disruptive technological innovations of the digital age — and the wave of the future for manufacturers and med-tech companies.
The latest projections show 3D printing will soar more than 300% over the next five years to become a $44.4 billion industry by 2025. That's up from $4.4 billion just six years ago and $10.87 billion in 2018.
That's growth of more than 900% since 2013!
This is great news for savvy investors who get in on the trend now on the way up as it becomes a superstar stock market sector.
Intercept the HUGE 3D-Printing Profit Potential Today
As I mentioned, Nexxt Spine is privately held, so you can't buy stock in the firm right now.
But there's a great way to play the 3D-printing phenomenon today.
Buy into an exchange-traded fund (ETF) that is leveraging the 3D-printing boom. I recommend The 3D Printing ETF (BATS: PRNT). This fund will provide you exposure to many of the companies involved in 3D printing and related industries.
My colleague and millennial money man, Ian Dyer, recently pointed out that buying even a single share of PRNT lets you invest in 56 3D-printing companies for the price of one. So, it's like an all-in-one bet on 56 separate businesses that will pay out if even ONE of those firms hits it big, like Nexxt Spine.
Remember: We here at Bold Profits Daily are all about helping you put your money into the mega trends that are changing our world and the way we live.
Like 3D printing.
And here's an added bonus: By investing in this massive biotech trend, you're helping advance one of the most promising technologies transforming our health care system (not to mention a range of other industries) while also making one of the smartest investments you can today. See keep an eye on the 3D printing market.
Until next time.
To your health and wealth,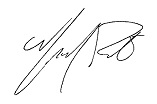 Nick Tate
Senior Editorial Manager, Banyan Hill Publishing