These Companies Are Paving the Way for Self-Driving Cars
In my February 16 article, I told you that I believe that self-driving cars are going to become a reality sooner than most people think. The reason I'm so optimistic about this technology is because of the incredible amount of activity that is going on in this field — plus the enormous amount of money being spent to develop this next level of mobility.
Already, it's clear that just three technology companies are vying for leadership to get their vision-based software integrated into the automotive industry.
In fact, my Profits Unlimited subscribers have already benefited from one of these companies in a huge way. This happened when Mobileye (NYSE: MBLY), the car-sensor developer I recommended to my readers, got bought out by Intel. This one recommendation alone gave my subscribers a 30% gain in less than a month.
Paul Mampilly's Profits Unlimited Hits 60,000 Subscribers
So, what are the other two companies that are vying to dominate the self-driving car technology race?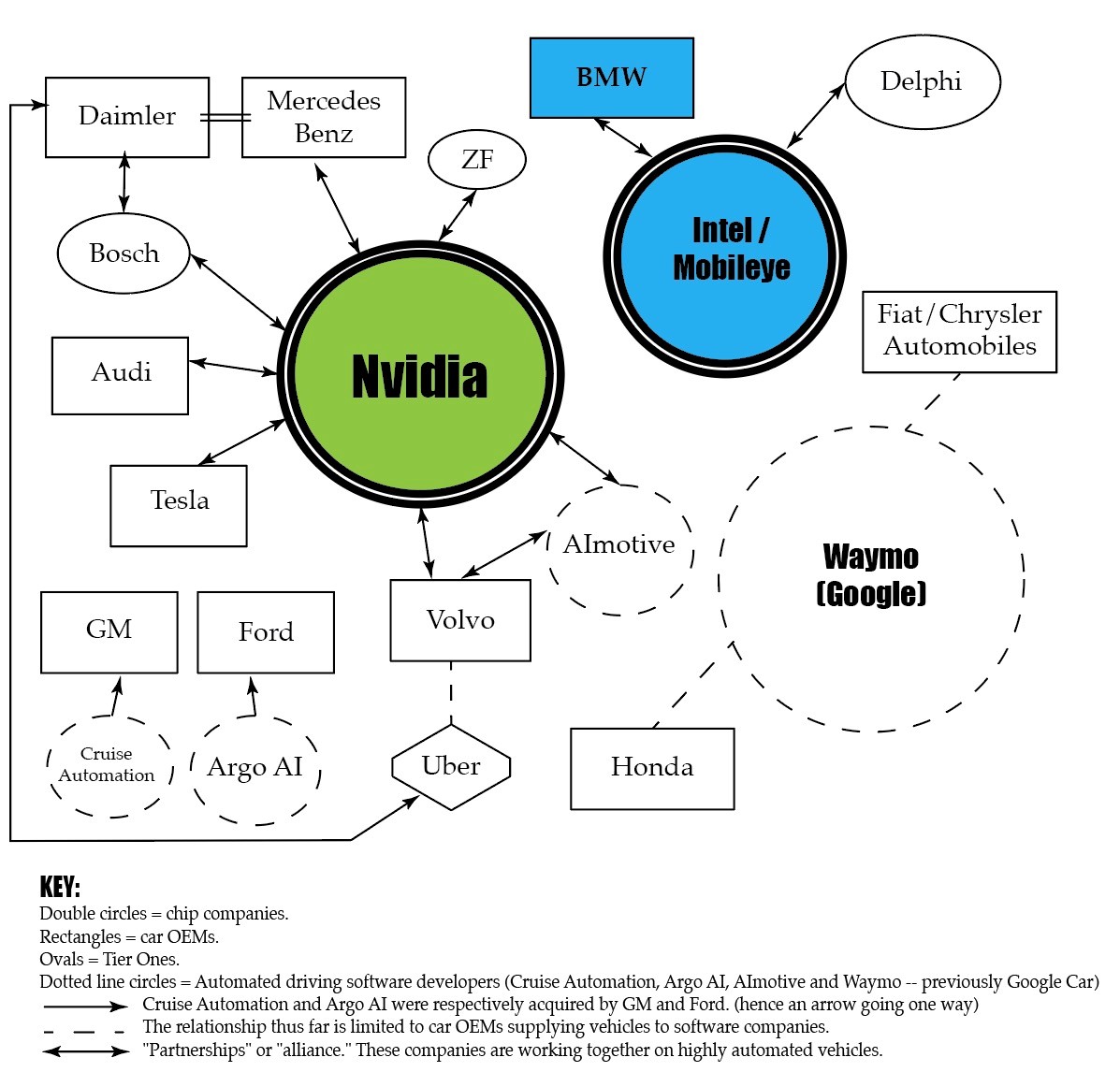 As you can see from this chart, Mobileye's top two competitors are Nvidia and Waymo, the latter of which is owned by Google. You can also see that every single company working in this field is partnered with one of these three dominant companies. In other words, it's a three-way race to monopolize this industry.
Nvidia Corp. (Nasdaq: NVDA) has already been a rocket-ship stock for investors; its stock has gone up by an amazing 473% over the last three years because of its lead in this area. Alphabet Inc. (Nasdaq: GOOGL), which is the holding company for Google and Waymo, went up 55% in the same time frame. And both stocks have performed better than the S&P 500, which was only up 28% during the same period.
As I've been telling you for some time, the best way to get in on the self-driving car trade is to own the VanEck Vectors Semiconductor ETF (NYSE Arca: SMH), which gives you wide exposure to the industry that is going to be the biggest beneficiary of this technology — semiconductors.
In fact, had you bought into this exchange-traded fund when I first told you about it in June 2016, you'd be up by 40% already. However, it's not too late to get in on this trade. Companies participating in the industrial Internet of Things revolution are gearing up to be mind-blowing stock market winners, and SMH is no exception.
Regards,


Paul Mampilly
Editor, Profits Unlimited