If you bought the ETFMG Prime Cyber Security ETF (NYSE: HACK) when I first recommended it last year, you'd be up 30% in less than nine months with an exchange-traded fund (ETF).
It shows the powerful growth behind the cybersecurity sector.
And there's still more to come.
According to new data from analysts at Juniper Research, they believe global companies will boost their spending even further.
They see investments in cybersecurity products and services rising by 33% over the next four years. By 2022, corporations will be spending more than $130 billion a year on this stuff.
Why?
Well, the threat isn't going away. For every hole in a network that gets plugged, hackers find another way in.
Next-Generation Cyberattacks
In April alone, U.S. defense and law enforcement agencies said they detected a new wrinkle in the latest attack methods. Instead of going after a vulnerable "backdoor" to a network, hackers were now targeting internet router devices.
Once the router is compromised, they can let their so-called "man in the middle" attack work its magic. As information flows back and forth between the user's computer and the internet, the hackers monitor the info and collect what they want, or feed in new data to further confuse the victim.
The new cybersecurity attacks also point to yet another threat. Instead of a lone-wolf hacker sitting in a darkened room with a laptop, newer attacks increasingly appear in state-sponsored form.  Analysts have taken to calling these "Generation V" attacks.
That doesn't mean that catchwords like "Russian hackers" or "North Korean attacks" are always accurate. But the attacks are becoming more sophisticated as the "black hat" hacker community encounters new cyberdefenses, then uses digital clues to more or less reverse engineer their way to a solution.
The scary part? As researchers at Check Point Software noted recently, these "large-scale and multivector mega attacks [are] using advanced attack technologies. Detection-only-based solutions are not sufficient enough against these fast-moving attacks. Advanced threat prevention is required."
All of which means that there's still plenty of time to buy a fund like the HACK ETF.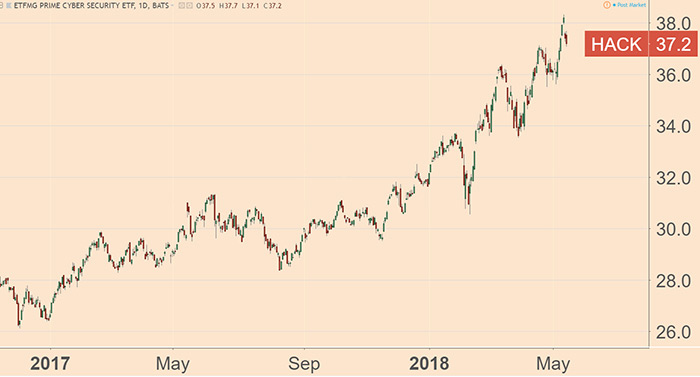 (Source: TradingView.com)
It wouldn't surprise me in the least for this ETF, and the individual stocks in the sector, to pull back some from this point. Such a pullback would be a healthy development and set the stage for likely bigger runs to come.
The main point here? Don't miss the boat. This is a huge, rapidly growing sector with a cumulative $1 trillion in spending in the pipeline in the next handful of years.
Kind regards,
Jeff L. Yastine
Editor, Total Wealth Insider
Editor's Note: Our offices have been buzzing with excitement for weeks as Wall Street icon Paul Mampilly and his team put the final touches on an epic event. For the first time ever, Paul will unveil a secret strategy that could hand you gains of 1,000% … 10,000% … and even 15,000% in the months and years ahead. This life-changing webinar on May 17 will be the most explosive financial opportunity you've ever seen! To sign up now, click here.