You'll Never Get Rich If You Sell Too Early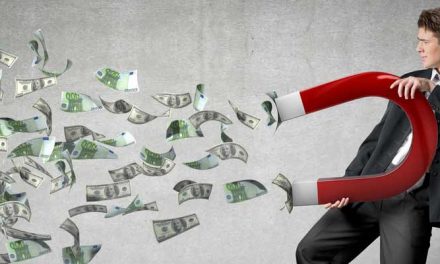 There are a lot of scary headlines out there right now.
Some people think that a market crash is eminent. Others think we're headed for a financial crisis, or even a Great Depression.
All of this is pure doom-mongering.
The truth is that the market has actually gone up by 320% since this bull run started.
And had you followed the "smart money" and sold when people were fearful, you'd have missed out on all those gains.
Break the Cycle of Fear and Get Rich
Remember, market makers want you to panic so they can scoop up high-quality stocks from you at bargain-basement prices. Then they'll turn around and sell you those same shares at a premium when the market rebounds.
That's why, in today's video, I tell you to break the cycle of fear and double down on stocks that participate in today's leading mega trends. Because you'll never get rich if you sell all your stocks and go to cash — and you'll never get rich by selling too early.
To learn more about these insider schemes, and which areas of the market you should be investing in today, check out the video below:
There are a lot of scary headlines out there. You can see them on Yahoo! Finance, you can see them on MarketWatch, and watching CNBC, you see them all the time.
Some people think there's a stock market crash coming. Other people think that there's going to be a financial crisis, or even a great depression. I have to tell you, pure and simple, I believe that this is pure doom mongering.
Ever since this bull market began in 2009, there has been doom mongering from Day 1. I know, because I've been in this bull market from Day 1 — first, as a professional money manager, and then in my current role as a guide to you regular, mom-and-pop retail, do-it-yourself investors.
Again and again, people have called for this bull market to end. And in truth, if you followed the doom mongers, you'd have been crushed. Because as the bull market went on, it's gone up now by 320% — and you missed out.
If you bought into the doom monger's arguments and went to cash, you missed out while the folks who stayed in got rich. And we're beginning to see the numbers behind this.
Check this article out. It says that 878,000 Americans became millionaires in the last year. Yes, 878,000 Americans. And I can tell you that many of them did it through the stock market.
I know, because many of them are subscribers to my publications, where they bought into incredible stocks like Foundation Medicine (Nasdaq: FMI), where they experienced gains of over 500%. Or NRG Energy Inc. (NYSE: NRG), where they got gains of 130%. Or PayPal Holdings Inc. (Nasdaq: PYPL), that got them gains of just under 100%.
And the most incredible thing about this is that it's happened in less than two years. We've gotten so many testimonials from people who have told us how they've made tens of thousands of dollars, hundreds of thousands of dollars and, in fact, we know that we have made many people into millionaires as a result of the stocks that we've been telling them to buy.
And you know the crazy thing about this bull market?
The so-called "smart money" that all these websites and CNBC tell you that you should follow — they have been completely and utterly wrong. Wrong, wrong, wrong, wrong, wrong!
You can see it from this headline from Bloomberg: For Hedge Funds, the Sky Always Seems to Be Falling. And you'll see in this chart that these legendary hedge fund managers — David Tepper, Carl Icahn, Paul Singer — they're constantly telling you that the market is going to crash and something is going to go wrong.
Meanwhile, the market has gone up by 320%.
And while my subscribers have made huge amounts of money in just two years — two years! — the so-called "smart money" has been delivering broken eggs to their clients for 10 years straight.
So as the market has soared, the hedge funds that everyone thinks is the smart money has been the wrong-way Larry of the stock market.
And if you look at this slide here, which was taken from MarketWatch, it shows you that, for the thing that really, really, really matters for stocks, which is earnings, this last quarter has been one of the best quarters in stock market history.
You can just read that slide. It says: "Earnings for S&P 500 companies grew by 25.8% in the third quarter, the strongest performance since the third quarter of 2010, when companies benefited…" from really the crash that occurred.
In other words, things got so low that anything that was growth was going to be a high percentage. However, that was not the case this last quarter. We were starting from a high level and we still grow at 25.8%.
That's just massive. Absolutely huge and absolutely incredible. And what has been going on in the stock market in response to that?
The stock market has gone down by something like 12% or 14%. So, just think about that. Earnings for the S&P 500 companies grew by over 25% in the last quarter, and investors' reactions to that have been to panic and to fear a great depression, a recession, a crash.
Now, I can tell you that, sooner rather than later, what you're going to see is people start to react normally to these incredible earnings and bid prices up. I can also tell you this, which is that you're never going to get rich by being in cash. And you're never going to get rich by selling too soon.
And for sure you're never, ever going to get rich by following the wrong-way Larry's of the stock market — the so-called "smart money" of the stock market, the hedge funds.
Just remember: These guys are in it for themselves. And they go out there to scare you after having bet on stocks to go down. And as you panic, they and the Wall Street insiders are buying stocks on the cheap from you.
Now, once you've dumped your shares, you are once again going to find yourself on the outside looking in as stocks rocket higher again, making even more people into millionaires.
That's why I spent my entire weekend putting this video together to tell you that everything I'm looking at suggests that the insiders are gaming you to get stocks from you on the cheap, and they've done that successfully again this October.
And that move is nearly done. Next, what you're going to see happen is stocks starting to go up slowly at first and then they'll suddenly be at new highs. And you'll have missed out.
This is why I would tell you that now is the moment for you to buy. That's right — now is the moment for you to buy.
So what should you go and buy? And why should you buy?
Well, I've laid out my case for you. If you're looking for things to buy, I would tell you to buy stocks associated with the great mega trends of our time: the Internet of Things, artificial intelligence, blockchain, precision medicine, new energy and the coming of age of the millennial generation.
You'll also find in the last four weeks I've recommended four separate ETFs. Go and watch those videos. And you can buy those ETFs as well.
So, that's my video for you. If you're already in stocks, stay in. If you sold, find the courage, find the conviction, find the belief to get back in, because I believe this market is setting up to go up, and go up a lot.
And I also quickly want to mention that if you're interested in the mega trends, the way to get into them is to buy my flagship Profits Unlimited newsletter. My publisher has designed a special $7.95 offer for you to try my publication out.
So, there's a link that will give you access to that. And if you're interested in the mega trends, that's one incredible, great way for you to get in.
That's it for me. If you like this video, give it a big thumbs up. Subscribe to the channel and then share it with your friends and family. I'll be back with another video next week. Until then, this is Paul saying goodbye.
Get Ahead of Wall Street
When it comes to investing, you want to be ahead of the crowd. Because sooner rather than later, people will start reacting normally to the positive growth that many companies are reporting.
Once they do, they'll start flooding into areas of the market that are setting up to soar.
I've talked about a few of these high-growth opportunities this past month, and have recommended four separate exchange-traded funds that will play into the growth I see ahead.
I recommend getting into one or more of them as soon as possible if you want to gain broad exposure to the market, as all four are still great buys.
And if you're interested in targeting specific companies from the mega trends I discuss in today's video, consider checking out my Profits Unlimited newsletter.
My publisher has created a special offer for you that lets you try out my flagship service for what some people pay for a single cup of coffee. You can find out more about it right here.
That's all I have for this week. However, I'll be back next week with another Winning Investor Daily.
Regards,
Paul Mampilly
Editor, Profits Unlimited