Metaverse & Profits With Purpose in 2022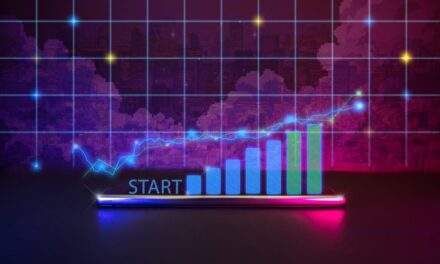 It's been a wild year so far. How is it only February?
But volatility or not, our mission hasn't changed. We're here — in front of you and behind the scenes — to help you achieve "profits with purpose."
That means giving you the very best — ideas, opportunities and tools to be successful Main Street investors.
Ideas like the metaverse. A mega trend that we think will have a breakout year.
Opportunities are piling up as metaverse $$ are rolling in. More exchange-traded funds (ETFs) are coming. And that tells me demand is heating up.
Your tools for investing: I made a Strong Hands stock recommendation for the metaverse that I believe will 10X in seven to ten years.
You can get details about how you can get my metaverse stock pick and more America 2.0 opportunities by clicking here.
And watch today's Market Talk for more for 2022. Plus, we have a special announcement of an exciting new project we're working on for YOU:
Amber Lancaster: Have you ever wondered who runs the day-to-day operations for Bold Profits? It's time to get to know Tamara Barkhanoy, Bold Profits business manager. Plus, the metaverse ETF boom is at our doorstep. Find out which up and coming ETFs to watch for your portfolio based on Bloomberg's latest research.
Hello Bold Profits Nation. Welcome to Market Talk Monday on the Paul Mampilly YouTube channel, the home of Bold Profits Strong Hands Nation. I am Amber Lancaster. Thank you for tuning in today.
As you can see, Tamara Barkhanoy, our wonderful Business Manager is joining us to share some exciting news and information for you, our Bold Profits readers. Good morning, Tamara. Thank you for joining us today.
Tamara Barkhanoy: Good morning, Amber. Thank you for having me. How are you?
Amber: I'm well. How are you today?
Tamara: I'm good. Thank you. I love the red for Valentine's.
A Little Bit About Tamara!
Amber: I got some roses and I put on a rose pin. So happy Valentine's Day to you. Tamara, while I have you here, I have some great questions that will hopefully let everyone get to know you more and get excited about what we can expect for Bold Profits in 2022.
First, if you can just share a little about yourself, your background or anything you'd like to share to get us into your realm better.
Tamara: Sure. I hope some of the subscribers already know me because I used to work on some of our services, namely True Momentum, Extreme Fortunes and 100X Club. I was an analyst for Paul Mampilly and was helping with all that stuff.
Then I switched a little bit and went more behind the scenes and started getting interested in our daily operations and how we're running things. Now I'm here.
Amber: I'm glad you're there. As our Bold Profits Business Manager, I'd just like you to share what that entails on a daily basis for you.
Tamara: As a Business Manager I generally make sure the content we provide our readers is the best it can be. I make sure all our services get delivered to them smoothly and all the operations involved in delivering the content we provide run without any hiccups.
Together with the team I set the direction our division is taking and make sure that we're still following our team, our readers and doing the best for them. That's basically it. I won't get into too much day-to-day stuff.
Amber: That's good. Thank you for that. In general, can you share what your vision and mission is for Bold Profits, especially for 2022?
Tamara: Our mission is very simple. It's profits with purpose. We want to give our readers the very best. The best ideas, the best opportunities and best tools to take advantage of said opportunities. We want to make sure the services we deliver to them are top notch, the ideas are top notch.
For 2022 we have a lot more ideas. There are still 10 months left. Hopefully you are all excited as we are.
What Is The New And Exciting News?
Amber: I know they will be. I think it's a good setup for 2022. Now, speaking of new and exciting, can you share any details about readers can expect and what you're working on for Bold Profits behind the scenes?
Tamara: I can't share too much, but we are working on our own website and our own home for our readers so they have something dedicated to just Bold Profits, just Paul Mampilly, just our team, just you.
Something they can use, go to and get every resource they need to know what's going on with Bold Profits, our portfolios, the market and everything like that. That's in the works right now. We hope to get it done before the summer.
Amber: Actually, we are all looking forward to that new website. Great job there. With that, any parting words before you start your day and start making things great for Bold Profits.
Tamara: I want to thank you, our team and our readers for sticking with us. I know it's been somewhat of a tough market for everyone. As long as everyone knows we're still here, we keep track of everything every day and we are giving them our best every day. I hope they know that.
Look forward and be as bullish, optimistic and positive as we are.
Amber: Well said. Thank you so much for dropping by and spending some moments with us today.
Tamara: Thank you and thank you for having me. Bye.
The Latest From Bloomberg!
Amber: Thank you again to Tamara for taking time to talk to us today. It's always good to hear from her. Before I sign off I want to put this latest metaverse information from Bloomberg data on your America 2.0 investing radar.
Bloomberg is reporting that metaverse ETFs could swell to $80 billion in assets under management by 2024 with annual fees of $600 million.
This all has the potential to happen as these ETFs stake their claim in the metaverse market that's projected to reach nearly $800 billion by 2024.
Matthew Ball, who runs a metaverse-focused advisory and venture investment firm, states,
Right now, as seen in this graphic
The metaverse is on a convergence of trends that include live entertainment like concerts, social networking, 3D online games and 3D-designed software. It's quickly becoming more than video game playing wearing a headset.
For example, per Pc Magazine, Warner Music has plans to host live concerts in the metaverse. Warner Music refers to itself as a first mover in the area of metaverse concerts. The record label conglomerate has partnered with decentralized gaming virtual world The Sandbox to create a performance space in the metaverse.
Fashion giants like Ralph Lauren announced at the recent Retail Federation's Big Show that the fashion retail brand is joining the metaverse in a quest to attract younger shoppers. All told, household name brands are spending their dollars and speeding up their metaverse activity in 2022 in the ever-growing virtual world.
Here's where it gets interesting. Bloomberg is keeping track of metaverse-related ETFs. They found that the assets of these ETFs may continue to rise as investors seek exposure to the metaverse. The Roundhill Ball Metaverse ETF launched in June 30, 2021, leads with assets of more than $850 million.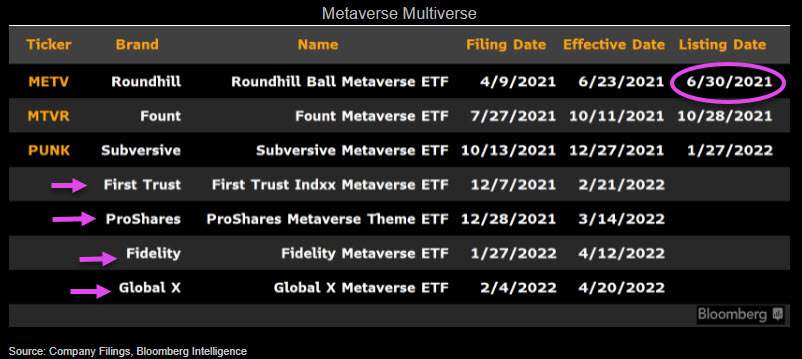 This Bloomberg table lists already launched and upcoming launches of metaverse ETFs. We should keep these on our radar. For 2022 we can anticipate newcomers like First Trust Index Metaverse ETF, Proshares Metaverse Theme ETF, Fidelity's take on a metaverse ETF and the GlobalX Metaverse ETF.
These new ETF launches from major ETF providers have the potential to benefit from the build out of the metaverse. Now, if you want to trade stocks benefiting from the rise of the metaverse, please check out Paul's Profits Unlimited research service which costs anywhere between $49 and $100 per year depending on the promotion.
Last year Paul revealed his top metaverse megatrade, calling for up to 10 times gains. To get more details on how to access his metaverse stock recommendations, as well as his America 2.0 stock pick, click the strong hands to get all those details.
All I have to say is metaverse opportunities abound and now is a good time to consider investing in a new innovation from the ground floor. You can follow Paul and me on Twitter: @MampillyGuru and @ALancasterGuru.
Wishing you a wonderful, healthy week ahead. Until next time, take care.
Regards,
Editor, Profits Unlimited