Warren Buffett Chases His Own Tail With Apple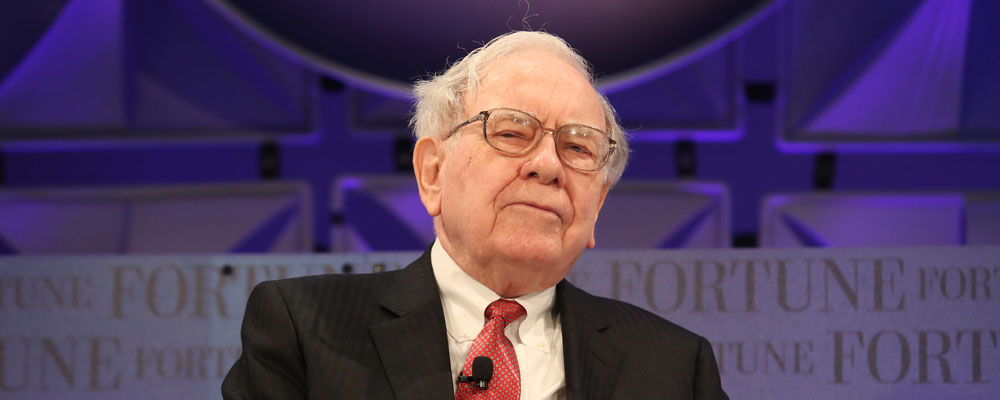 "Our stock keeps going up," the CEO boasted to me.
"Why?" I asked him.
For the next 30 minutes, I got his well-rehearsed pitch on why his company was such a great investment.
The thing is, his company was well past its prime. Its products were aging poorly. Customers were seeing no real benefits from the improvements. Because of that, they were slowly backing away from buying.
However, it was a bit hard to tell what was going on. That's because the company was able to hide its decline in unit sales by raising prices.
The CEO kept a high profile. You'd see him on CNBC. He was quoted in newspapers … a media celebrity.
Every new product was the next big thing, he was certain. He was certain units would pick up soon … and that everyone would buy the new products he was going to bring out this year. Then, the next year and the year after that.
Though he'd said the same thing before, and customers weren't biting.
He even captured the imagination of the famous investors … who fell hard for the company, buying billions of dollars' worth of stock. And many other investors followed in their wake, running the stock higher and higher
Then reality hit…
Market Superstars
This is a true story that happened to me many times in the past. And every time, the people who bought stocks with this profile got burned hard.
Sometimes it was because the stock was a fraud, like Enron.
Sometimes it was because the stock was a pure Wall Street manipulation, like with mortgage company Countrywide Financial in the last financial crisis.
And sometimes it was a great American company that was mismanaged into oblivion, like Kodak.
Each of these companies was once a market superstar. Then the bottom fell out, sometimes slowly, sometimes fast. It didn't matter in the end.
I believe this is the fate of Apple Inc. (Nasdaq: AAPL).
The Smart Investors Are Rushing for the Exits
Apple stock has surged in 2017 on the back of a "supercycle" for its iPhone that never came true. Now it's clear that the only thing Apple stock has going for it is that Berkshire Hathaway CEO Warren Buffett keeps bidding it up.
Newbie investors are still piling in as Buffett chases his own tail. And by that I mean it's his buying that is pushing the stock up, which brings in "dumb money" investors who follow him into the stock. Then Buffett buys more, and that's drawn even more of these latecomers into the stock.
However, the true "smart money" on Apple, the folks who bought Apple when Buffett was sitting on the sidelines, are rushing for the exits.
Bloomberg reports that institutional investors reduced their holdings by 153 million shares in the first quarter. That's the biggest decrease in Apple shares held by institutions since Bloomberg has been keeping track — which is the first quarter of 2008.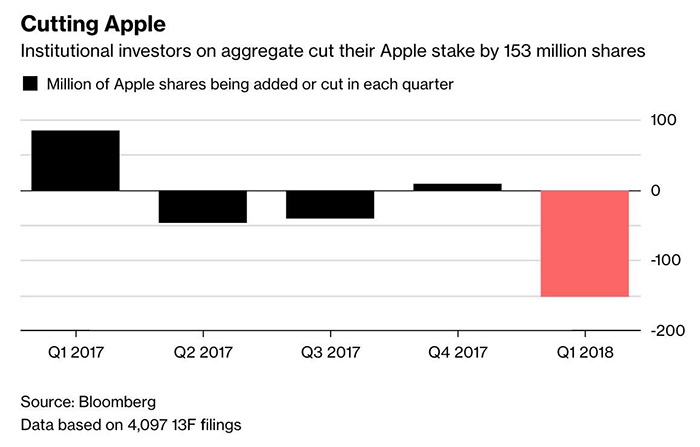 I've missed the huge run caused by Buffett's $40 billion Apple stock buying binge. If you caught it, well done, and you should look to join the sellers who are dumping Apple shares.
Apple Has Heavy Competition
The reasons to sell your Apple shares are the same that I've been writing about for a year now.
Apple under CEO Tim Cook has become a company that's forgotten its purpose … which is to delight people with the experience of using the things it makes.
Instead, under Cook, Apple tinkers with colors and sizes, and looks to impress safe-money investors like Buffett with hundreds of billions of dollars in stock buybacks and dividends.
Meanwhile, competition for the iPhone keeps rising, and Apple's position is weakening for its critical product line.
Apple is now fifth in smartphone market share in China. It's nowhere in India.
In the U.S., Apple's market share for iPhones dropped from 40% to 33% in 2017. Its position in Japan and Europe is also down.
The Beginning of a Long Decline
Apple's CEO likes to boast about the company's services business, which includes revenue from the App Store, Apple Music, Apple Pay and iCloud storage.
However, in truth, this business is completely dependent on Apple maintaining its iPhone market shares because it has no standalone value to customers. Customers that switch to a new phone stop paying for these services.
In time, I believe you'll see it's 100% clear that Buffett's buying in 2018 marks the top in Apple stock. You'll see Apple stock begin a long decline once his buying comes to an end.
Regards,
Paul Mampilly
Editor, Profits Unlimited