No One's Talking About Japan's Bull Market
Some say a bad reputation can follow you forever.
But, in my experience, there are three critical elements that can turn a market with a longstanding bad reputation into a land of limitless opportunities to profit.
The market I'm talking about is the Japanese stock market.
See, if I mentioned investing in this particular market 10 years ago, many investors would have laughed me under the table.
That's because when you look at the Nikkei 225 Index chart below — which is Japan's version of the Dow Jones Industrial Average — you can see that Japan's stock market has had a rocky history.
The thing is, that's the Japan of the past.
Japan's current market shows signs of having three critical elements of my GoingUpness system: ScarceAbility, ValueAbility and InDemandness.
And all three have led early investors to massive profits.
Japan's Stealth Bull Market
In today's Winning Investor Daily, I explain exactly how Japan's stealth bull market could reap you hundreds, possibly even thousands of percent in gains — especially if you get in before Wall Street does.
Check out the video below:
Hi, it's Paul with this week's Winning Investor Daily. This week, I'm going to tell you about a secret bull market that no one is telling you about.
Now, the great thing about investing in these bull markets and getting in early is that it gives you a chance to make really big money.The kind of money that I'm talking about is hundreds of percent. And, if you stayed long enough with this investment, it could even be thousands of percent.If you think about it in terms of money, these are the kinds of investments that could take $1,000 and make it $10,000 … $10,000 and make it $100,000 … $100,000 and even make it a million dollars.So, what is this secret bull market?
Well, it's something that I bet you're not thinking about, and largely aren't considering — it's the Japanese stock market. Yes, the Japanese stock market.
Yeah, it's that same stock market. And, if you go and look it up, you'll see it's largely gone nowhere for nearly 30 years. So, let's go back a step and do a little backstory.
The Japanese stock market experienced this massive bubble that ended in 1990. And, you can see from this chart that it went up until 1990, and since then it's gone up and down.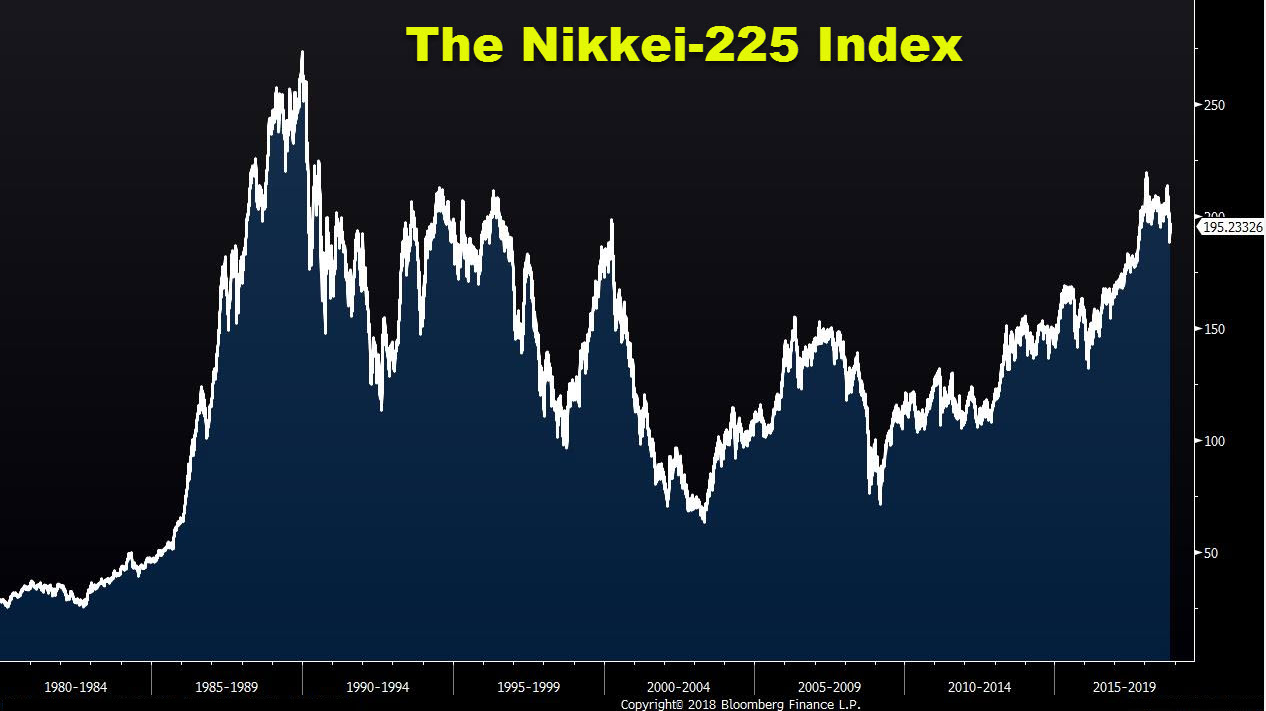 It finally bottomed out in about 2009, and it's been continuing to go up in a very wavy fashion.
It's not something that somebody would really want to invest in. So, as I like to put it, it's been a roller coaster torture-test. I think if you actually were in it, that's how it would feel.
That's because every time the market seemed like it was getting going, there was something that happened. For example, in 2007, there was the nuclear reactor accident that crashed stocks again in Japan.
And this happened again and again, as you can see on the price chart of the Nikkei Index, which is Japan's equivalent of the Dow Jones industrial average, and it's the main index that they're known by.
So, the natural question that you would be asking is, "Well, Paul, what's different now? Why should I invest in Japan today?" And, "Why does it give me the incredibly great chance to make big money?"
I've got three reasons for you: First, Japanese stocks are dirt cheap. It's really like being an investor in the United States after the Great Depression — that's what Japanese stocks are valued like.
And this was taken from some incredible research that's been done by my colleague, Ian Dyer, who runs The $10 Million Portfolio service alongside with me, and he came up with this.
In Japan, there are 2,959 companies that you can buy on the Japanese exchanges. Of these, 38% — just 38% — are valued greater than $500 million.
I can tell you that is just insane when you consider that Japan is the world's third largest economy in the world. And, so many companies trade below this fairly small number.
And, for comparison, Ian checked in the United States. Fifty-eight percent of companies in the United States has a stock market value or market capitalization of $500 million, or more. That's a 20% difference, which is absolutely staggering when you think about it.
Now, some people will say, "Well, Paul, it must be because these companies are worthless. There's nothing there."
I can tell you from the research that we've done, we've put a lot of Japanese companies into The $10 Million Portfolio service — this is not true. These same companies that trade on the Japanese exchanges are leaders in the fields of robotics, automation, haptics, sensing technology, electronics and more.
In other words, when you go look at it and compare it, these companies are incredibly valuable.
They have incredibly valuable technology that is being used all over the world. And, it's something that my team and me are really aware of because of all the research that we have done in the mega trends of the Internet of Things, artificial intelligence, blockchain and even new medicine.
The other objection that other people would have is that "Well, Paul, Japan has a reputation for being a terrible place for shareholders."
Well, that was true a long time ago. However, it's no longer true. Today, Japanese companies are very aware of shareholders and aware of the fact that they need to provide a benefit to the shareholder.
So, they now have very high standards for how they treat their shareholders. And the way that you can see that is from this chart, which measures return and equity and compares it to a global index.
You can see that Japan has nearly caught up to all the other markets.
And, some of you will be thinking, "Well, Paul, it's still below it." However, just remember what I said earlier — Japanese companies are insanely cheap. So for you to be able to get that kind of return on equity for these prices is a complete and utter bargain.
So, the bottom-line to this is that if you are looking for valuable technology companies that are really dominant companies, Japan is the market where you want to go find it and where you can buy it.
Now, the third reason is probably the least known reason, and I would tell you it is the reason why you should get into Japan today — scarcity.
And, those of you who have been following Profits Unlimited for a while know that in GoingUpness, scarcity — or as I call it, ScarceAbility, is a critical factor in my system of GoingUpness.
Here's why this comes into play in Japan. You see, the Bank of Japan has been secretly buying Japanese stocks using exchange-traded funds (ETFs). And, when Ian went to research various Japanese stocks for The $10 Million Portfolio service, he found that they have purchased $191 billion' worth of Japanese stock.
Think about that — $191 billion' worth of Japanese stock. And, these represent 75% of the total ETF supply of all the ETFs trading in Japan. I can tell you that this is a massive deal.
In other words, they have sucked up all of the excess supply of Japanese stocks using the ETF market. Here's why this is important.
I know from having been on Wall Street for a long time that the big money investors — the institutions, hedge funds, pension funds — the big money investors are very underinvested in Japan because of its history. And because of its big up and down moves, it's just been a very rough place to invest.
However, sooner rather than later I believe that they are going to come into the Japanese market. And when they do, they are going to come with their billions and billions of dollars.
What they are going to find is that Japanese stocks are scarce. And, to meet their demand there is going to be no stock in the market, which means they are going to be forced to bid it up, and they are going to send Japanese stocks soaring higher.
This means that if you buy in before this demand comes in, it will mean massive, incredible gains for you. And, shortly I'll tell you how you can get in.
But, just understand, Japanese stocks now have all the three critical things that I always look for: They're scarce, valuable and soon to be in demand. And, that is the magic formula for big, I massive gains, in my experience.
So, the way to get in on this trade is to buy an ETF that trades in the United States. It's the iShares MSCI Japan ETF (NYSE: EWJ).
Now, if you're the type of person that wants the biggest gains that you can find — the real rock star, superstar investments in Japan — you'll need to buy individual stocks.
And, I told you many of the fields, in which Japan companies really lead technologically. For example, robotics — they're a big leader there.
Now, these are stocks that I believe can go up tenfold or more over any number of years. And, if you're the type of investor that wants these types of stocks, then you should check out The $10 Million Portfolio service that Ian Dyer and I run at Banyan Hill, which is our publisher.
You should also look into the Profits Unlimited service, where we have a couple of Japanese stocks and will be looking to put in more Japanese stocks to benefit from all the things that I've been telling you about.
So, that's my idea for you this week. Buy Japan using the Japan iShares ETF. And, if you like this video, please give it a big thumbs up and subscribe to this channel, if you don't already. And, please share this with your family so that we can keep making these videos for you.
That's my video for this week. Until next time, this is Paul saying goodbye.
Invest in the Japanese Stock Market Boom
When it comes to the stock market, it pays to get in ahead of the rest.
That's why I believe that sooner rather than later, other American investors are going to catch on to the incredibly stealthy bull market that's in Japan.
When they do, they're going to bid Japanese stocks up and send massive profits to early investors.
Of course, if you're already invested in my services Profits Unlimited or The $10 Million Portfolio, you've already begun to explore the countless opportunities that Japan has to offer.
But, if you're not, I recommend buying the iShares MSCI Japan ETF (NYSE: EWJ), as it's a great introduction to the Japanese market.
That's all I have for this week. However, I'll be back next week with another Winning Investor Daily.
Regards,
Paul Mampilly
Editor, Profits Unlimited