1 Simple ETF Covers Every Tech Mega Trend
I love technology!
Right now, as I write this, I'm working remotely … sitting in a Starbucks sipping coffee.
The dark, rich, caffeine-laden sustenance was ready for me when I arrived. The café is cozy and bustling with millennials, and the Wi-Fi is strong.
It's a warm feeling to be out and about on this cold February day.
When I started my financial career, such a thing was unheard of and only barely possible. Just think about all the tech that went into making such a scene possible.
Semiconductors, LCD technology, microcircuits, high-speed Wi-Fi … these are the obvious things. But there's also the cloud and the Internet of Things, through which I ordered my coffee ahead of time.
There's the virtual private network and security software I'm using to keep my connection private and safe. Further up the chain, there's the automated and 3D-printing machine tools used to make the precision hardware I'm using to talk with you today.
Now think about how many mega trends it took to make my morning possible.
Think about the investing possibilities that will continue to spawn from this growing movement of work mobility and advancing technology.
The potential returns on these mega trends are nearly endless.
5G wireless, smaller computers, increased mobile computing and cloud processing, artificial intelligence, and cybersecurity … all these mega trends dovetail together to push our increasingly tech-dominated world forward.
But where do you start?
Do you start with semiconductor stocks like Plexus and Ultra Clean?
How about 5G-testing firm Viavi Solutions or 3D-printing guru 3D Systems?
Or even red-hot cybersecurity firm ManTech International?
The sheer amount of information and possibilities leave many investors vapor-locked and unable to decide. But what if I told you there was one simple exchange-traded fund (ETF) that could cover all these bases?
It's true. And today I'm going to show you how to get started.
The Small-Cap Tech Boom
When investing in a mega trend, it's advantageous to start at the bottom.
Yes, the Facebooks, Amazons and Googles of the world offer solid and steady returns while also offering mega-trend exposure.
But the biggest potential returns lie in the next wave of mega-trend stars. The next-generation Intels, the future FAANG stocks.
This is where small caps come in.
They are the upstarts in the tech world. They are where all the disruption and the new ideas start. They also feed into the bigger FAANG stocks and help drive mega trends even further.
But investing directly in these companies is risky. Pick the wrong company, and your investment dollars could evaporate overnight.
With the Invesco S&P SmallCap Information Technology ETF (Nasdaq: PSCT), you don't have to pick a specific company to get in on the small-cap tech boom. Every mega-trend company I listed earlier can be found in PSCT.
That's some impressive exposure for a single ETF. It's practically a one-stop shop for companies with mega-trend potential.
And if you've been keeping track, you'll know that small caps have taken over market leadership since the beginning of the year.
PSCT has rallied more than 30% since the market bottomed just after Christmas.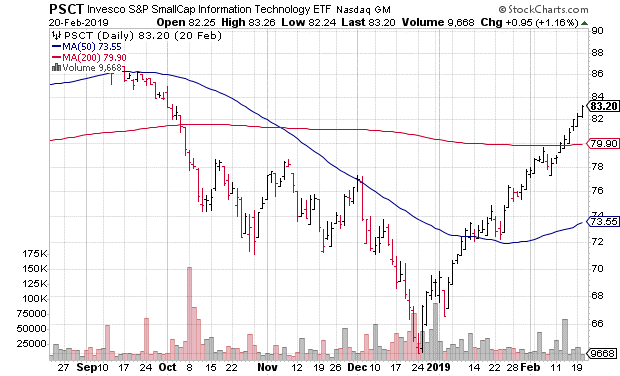 By comparison, the S&P 500 Index has gained only 18% during the same time frame.
But that's not all. Even before the market downturn began in late September, PSCT was outperforming the broader market.

The Tech Takeaway
You may be reading this right now on your own computer or mobile device … sipping coffee in your favorite café or in the comfort of your own home.
Remember the mega trends that helped make this possible.
These are the companies you want to invest in now. And you can get them all in one tidy ETF: the Invesco S&P SmallCap Information Technology ETF.
Until next time, good trading!
Regards,
Joseph Hargett
Research Analyst, Banyan Hill Publishing