Follow TSLA Growth for Gains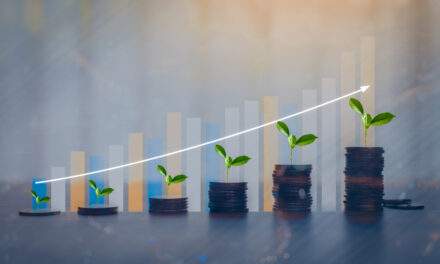 Love it or hate it, I'm still #BOP.
Bullish. Optimistic. Positive.
People love to punch 🥊 you when you are down. But to be clear — we are down … not out.
Here's what I'm seeing: continued growth in our mega trends and stocks.
Like Tesla. The stock has gone up and down, but the growth is still there:
this is the kind of growth that we'll see in our companies. sometimes the stocks run ahead of the growth sometimes they follow growth. you don't know when the gains will get priced in which is why we say #stronghands and you need to be in to win https://t.co/IQsgDWz2M3

— 🇺🇸Paul Mampilly (@MampillyGuru) January 27, 2022
There's innovation happening in our mega trends and stocks. Like the electric vehicle (#EV) and new energy markets. Innovation, growth, gains (big money over time).
The good news is out there. It's times like these — you just have to search a little harder for it.
Which is why we did it for you. Take a look at the incredible reasons to hold Strong Hands in TSLA, EVs and new energy:
Bold Profits Nation, we know investing the America 2.0 way has been tough over the past year, but I'm here to tell you there are still amazing developments happening in our mega trends which is why you should hold your Strong Hands as the opportunities of the Fourth Industrial Revolution continue to unfold.
Thanks for joining me. I'm Amber Lancaster and you're watching the Paul Mampilly YouTube channel.  And please remember to like to this video if find the content helpful and subscribe and share this channel with your friends and family.
Let's Look Into The EV Market!
Two of our mega trends, New Energy and Electric Vehicles continue to make strides.
And there's one tech development in EVs that more EV makers have installed or plan to install on their cars that will make owning an EV not only fun to drive but also possibly put money in your pocket!
Here's what going on.  First, overall, a recent Bloomberg New Energy Finance or BNEF report shows a record $755 billion was invested in the world's energy transition in 2021.
That's right, money poured into alternative energy sources like solar, wind and hydropower.  This is up from $595B in 2020 and just $264B in 2011.  This shows that new energy is the place to be.
Investment in global energy transition includes spending on new energy projects like renewables, storage, EVs and charging infrastructure for EVs.
While renewable energy attracted the most investment in 2021, topping $366B, Investment in electrified transport (a.k.a. electric vehicles) took the cake!  EVs posted the highest level of growth in the sector.  Investment in EVs and charging infrastructure surged by 77% last year to $273B, and BNEF expects the EV market to overtake renewables spending in 2022.
So, here's the interesting part.
In the U.S. alone, EV sales increased 89% in 2021, totaling 487K+ units.
While globally, passenger EV sales are set to increase sharply in the next few years, rising from 3.1M in 2020 to 14M in 2025.
What Is Bidirectional Charging?
Simply put, sales for EVs are brisk and may become brisker as potential EV buyers learn that EVs equipped with a growing technology could put money in their pockets.
This tech is called bidirectional charging.
Here's how bi-directional charging works. As seen in this animated illustration, when an EV is charged, AC or alternating current energy from the power grid is converted to DC (direct current) energy to be stored in the car's battery. In EVs equipped with bi-directional charger capabilities, EVs owners can choose to send excess or unused energy stored in the car's battery back to the grid and get paid for it. Bidirectional charging can become a highly sought-after feature that can further the adoption of EVs for the masses as it offsets the cars costs thus making them more affordable.
And according to BNEF, 2022 may be the year we see this tech added to more EVs. Per BNEF quote: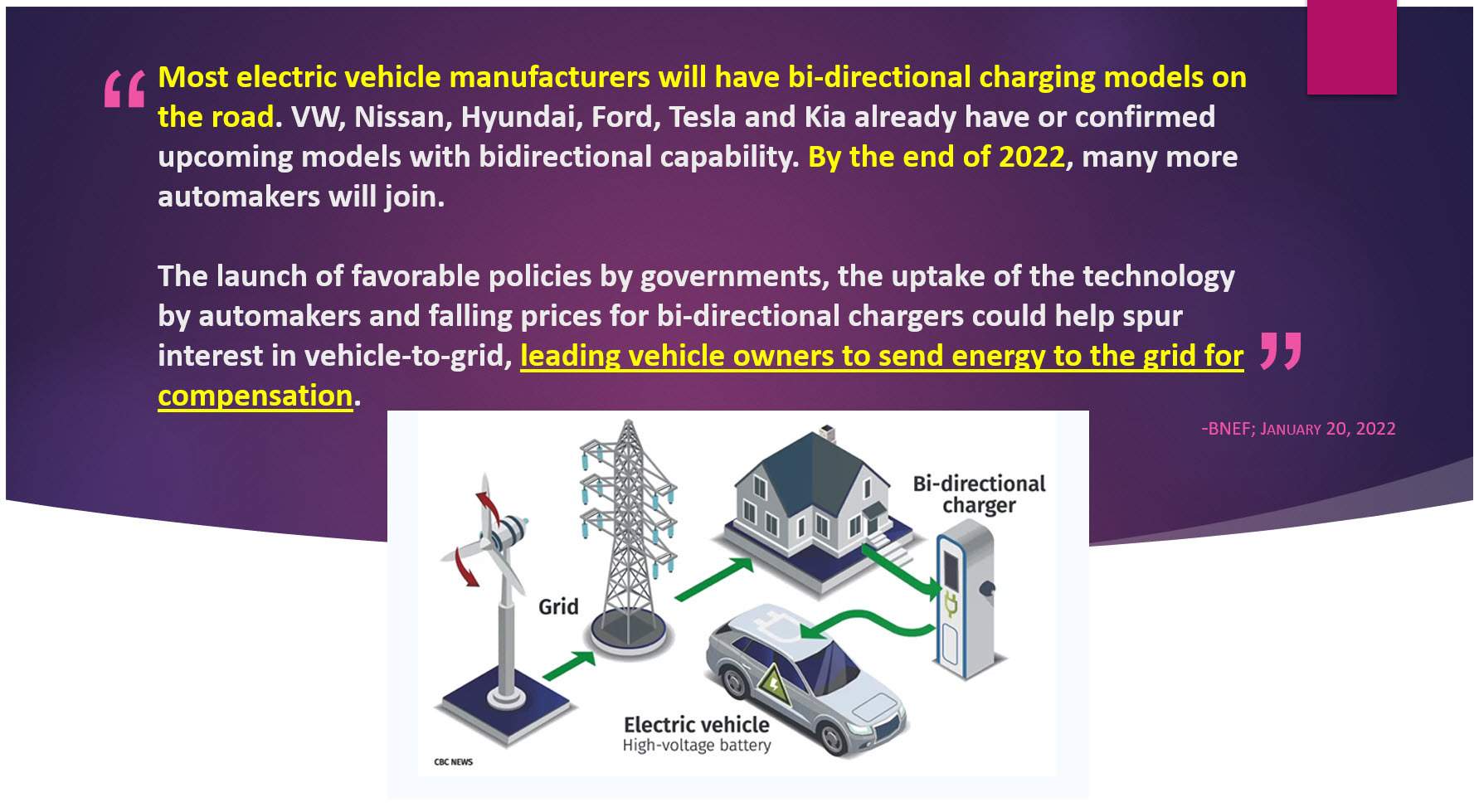 So far, the new Hyundai IONIQ 5 and Ford F-150 Lightning electric pickup truck have already added this feature.
And per reporting from the Auto Channel, the results of an EV bidirectional charging pilot program are in. The first-ever customer-owned EV to support the New England electric grid using bidirectional charging tech has earned the EV's owner $4,200 by participating in a utility demand response program over the summer of 2021.  That's a nice chunk of change. These income generating results should be a big help in changing how we all think about of EVs. They're not just modes of transportation but also potential income streams for our households!
To play this mega trend you may consider buying shares in our Bold Profits favorite EV maker, Tesla ticker TSLA.  Another way to invest in the overall new energy revolution, from Paul's perspective, is to check out his recommendation that he predicts will be 10X bigger than Electric vehicles.  He's found a tiny super battery company that is on track to dominate the potential $51T New Energy market, launching a new era of American Power.  To find out more, click the strong hands icon over my shoulder.
The new energy revolution is here and gaining traction.  Make sure you're part of it.  And remember you can follow Paul & me on Twitter @MampillyGuru, and @ALancasterGuru for the latest news and trends in America 2.0 stock investing.  That concludes this week's Market Talk Monday everyone. Have a great week ahead!  Until next time, Take Care!
Regards,
Editor, Profits Unlimited
Strong Hands Opportunity: Don't apologize for being #BOP. In fact, show the haters why they'll miss out for not being #BOP for our future too.
I know it may sound a bit crazy, but…
A former Tesla employee, who you could call the "father" of the electric car revolution, has recently created a device that is about to make world history…
This is something entirely new that's going to cause a massive surge in the market.
So massive … that I believe it'll be bigger than all of the FAANG stocks combined — 15 times bigger.
And it's not gonna happen in 10 years, or five years or even one year…
But, it's starting right now. Click here for the full story.