President Biden has declared war on fossil fuels.
He has vowed to make America 100% carbon-free by 2050.
And he has promised to: "Do everything in my power to clean our air and water, protect our people's health, to win the clean energy future."
But there is a dark side to clean energy that President Biden and other progressive politicians aren't talking about…
Research from Harvard shows that solar panels will create 78 million tons of toxic waste in just 30 years.
It also shows that large wind turbine farms increase the Earth's surface temperature instead of helping to lower it.
And research from the Manhattan Institute shows that for just one single electric vehicle (EV) battery, 500,000 pounds of earth need to be mined and processed.
Worse, more than half of the world's supply of cobalt … a crucial rare Earth element used in EV batteries … is mined in the Democratic Republic of Congo…
Where, according to Amnesty International, around 40,000 children are forced to dig mines and carry rocks.
Real talk — clean energy isn't clean, it's downright dirty.
The President's clean energy agenda won't reduce pollution…
It merely sweeps it under the rug where no one can see it.
Worse yet, his blind obsession with clean energy has set the stage for disaster…
The Wall Street Journal reported…

Wired declared…
And business analyst and Wall Street insider Charles Mizrahi warned that…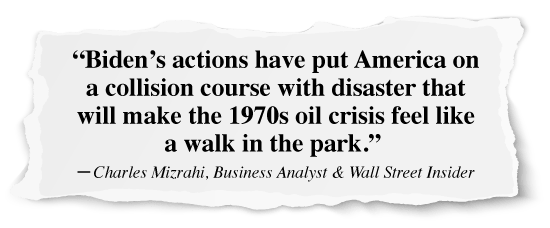 In a recent broadcast, Mizrahi showed why Biden's clean energy goals are not only foolish and dangerous … but also impossible…
He also cautioned that those who do not make a simple, yet very important, financial move before June 1 will fall victim to soaring inflation, a crumbling economy and all-out panic.
The simple move Mizrahi details gives you the chance to do much more than protect your family and sidestep the energy crisis that Biden has unleashed…
It could also give you the opportunity to grow your money in spite of it.
With Mr. Mizrahi's permission, we're posting his recent presentation.
Past performance is not a predictor of future results. All investing involves risk of loss and individual investments may vary. The examples provided may not be representative of typical results. Your capital is at risk when you invest — you can lose some or all of your money. Never risk more than you can afford to lose.