In the past couple of weeks, it seems like everyone is calling for a "bubble burst" for cryptocurrencies. Big names like Berkshire Hathaway CEO Warren Buffett and JPMorgan Chase CEO Jamie Dimon have been calling for this "crash" for months.
But if you look at the chart below, you can see that the recent drop is insignificant.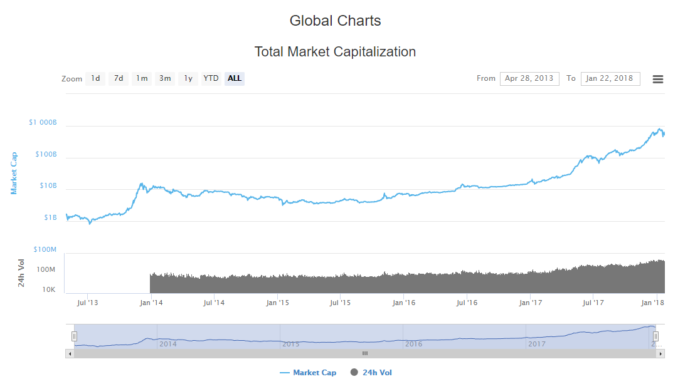 (Source: CoinMarketCap.com)
The chart is logarithmic, which means it shows the price in a relative sense. If you look at the price on a normal linear chart, it's a lot more drastic.
The overall crypto market fell over $400 billion from January 7 to January 17, or 50%. And even though it's fallen 50% plenty of times over the years, this time looks a lot worse.
That's just because it's a $400 billion drop instead of a $9 billion drop, like in 2013 when the crypto market dropped almost 60%, or $55 billion, or like when it dropped 46% just last July.
This time, people are selling because of potential reforming/banning of cryptocurrencies in countries like China and Korea.
China is cracking down on bitcoin mining. In South Korea, they limited the trading of bitcoin by banning futures trading.
No Need to Panic About Cryptocurrencies
Most of this negative reaction, however, is based on speculation. People are assuming the worst: that cryptocurrencies in general will be banned.
But there's no way that's going to happen. In fact, governments are testing their own cryptocurrencies now.
Even China!
The same country that people are worried will ban cryptocurrencies is exploring the technology to make its own.
The point is, people are quick to forget prior market drops during a current one.
Every time a new situation comes up that sounds like it will be a threat to the industry, speculation runs rampant, and everyone panics and sells, causing the price to drop.
This isn't anything new. It's just a volatile market getting a feel for how the underlying technology will be used.
Blockchain and its counterparties are still just getting started, as they continue to be improved upon and used for different purposes.
Regards,

Ian Dyer
Internal Analyst, Banyan Hill Publishing
Editor's Note: Natural resource expert Matt Badiali's new strategy has spotted three potential wins … stocks that his research shows are on track to quickly become 10 baggers. Each of these three stocks could easily become the next Aurelian Resources, which surged an incredible 6,250%, or Ventana Gold, which soared a staggering 10,558%! Matt is calling this one of the most thrilling and impressive opportunities he's even seen in his 20-year career … but to find out more, you must sign up for his exclusive webinar presentation by tonight, January 24, at midnight EST. To sign up, simply click here now.