Why You Should Get Out of Corporate Bonds Now – Corporate Bonds Drop
"When is the cheapest time to buy a Christmas tree?" I asked my kids.
My kids guessed that the earlier you bought it, the better.
Trees should be cheaper if you bought them earlier because, well, they have little use until Christmas, according to them.
For them, a Christmas tree means Santa and presents.
So it's of little value to them until Christmas Eve, when its value spikes up.
It took a bit of explaining to get them to see that trees crash in price as Christmas approaches.
If you're in the business of selling Christmas trees, you know there is no market for trees after Christmas Eve.
Though my way of looking at it is less exciting than my kids' way of seeing things, it's the way things actually work for Christmas trees — and in financial markets.
In simple terms, it means looking at supply and demand.
Right now, demand for certain investments is set to plummet. When that happens, you'll see the prices of all these things drop through the floor.
Here's why this is going to happen starting now…
Supply and Demand and Corporate Bonds

You see, the Federal Reserve started raising interest rates regularly starting late in 2015.
Since then, the interest rate for one-month government bonds has rocketed up from essentially zero to a high of 1.33%. And these interest rates are continuing to go up.
It took a bit for these short-term rates to start affecting bonds that go out longer. However, by late 2016, interest rates on longer-term bonds like 10-year government bonds started to go up too.
The 10-year bond is used by professional investors to gauge the attractiveness of all investments and set the price of all assets.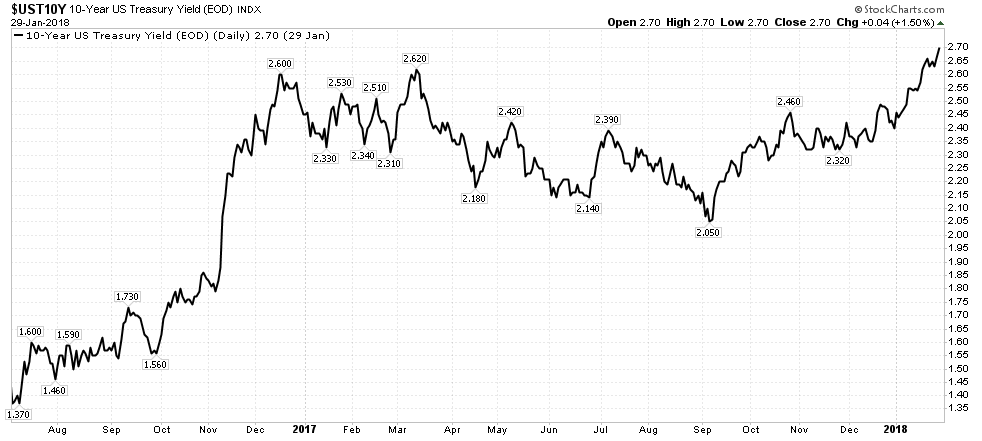 That's because worldwide, governments, big companies and rich people are willing to buy the bonds of the U.S. government at all times. They see these bonds as safe, knowing they'll get their interest and the money back when they're due.
Now, when you can get higher interest rates on something that's seen as safe, the demand for things that are less safe goes down. And with demand lower, the prices of other assets that people hold for safety and income go down.
So, for example, many people have bought corporate bonds issued by companies at very low rates over the last 10 years.
These corporate bonds are less safe because unlike the U.S. government, companies can't print money, and they can go bankrupt.
These bonds benefited when interest rates were very low because investors were willing to take on more risk.
Now these corporate bonds are a worse deal because you can get the same interest rate on government bonds. Because of this, prices of these bonds are going down and are going to continue to go down.
A Global Recovery
People who bought the stocks of no-/low-growth companies like Kellogg Co. (NYSE: K) and Campbell Soup Co. (NYSE: CPB) for their dividends are seeing losses. That's because fewer people want these stocks now. These two stocks are down 20% to 30% from their highs, and they're going to keep going down.
Next, many people have bought into gold, collectibles and tangible assets like diamonds because they believe the U.S. and global economy are going to go through another Great Depression. I believe the mania in cryptocurrencies like bitcoin began because of a similar reason.
Many people distrust the government and stocks after the 2008 financial crisis, and cryptocurrencies are another place that people have put money into as a safe haven against another crisis.
However, the U.S. and global economy are growing today. In fact, there is a synchronized global recovery going on right now. Every major economy in the world is showing growth, and I believe this is going to continue for some time.
Very low interest rates were used by governments and central banks to soften the blow of the financial crisis. And now economies around the world are growing again.
That's good for almost everyone … except for investments that depend on another Great Depression.
You see, the likelihood of a financial crisis is how corporate bonds, slow-growth dividend stocks, gold and bitcoin are priced today.
Now, with economic growth happening worldwide and interest rates rising, the prices of these investments are going to get clobbered as people sell them.
One More Thing…
You might be thinking: What about stocks?
Stocks that are the beneficiaries of economic growth are going to keep going up.
I believe that the benefits of economic growth are going to be big enough and go on for long enough that the stocks of growing companies are going to keep rising even as interest rates rise.
Regards,
Paul Mampilly
Editor, Profits Unlimited