History doesn't repeat itself, but it often rhymes.
Many attribute that saying to Mark Twain.
I believe it's descriptive.
In investing, it's important to consider the past. I use it for guidance about potential future moves.
For example, we know the market tends to overreact to bad news. A few parties begin to sell shares of a company with a less-than-perfect headline … and the next thing you know the stock is down 10%.
An example of this is gun stocks. After a recent tragedy, names like American Outdoor Brands Corp. (Nasdaq: AOBC) and Sturm Ruger & Co. Inc. (NYSE: RGR) sold off.
I showed you how this had happened in the past. Then, when emotions settle, shares trade up again. Shares of these two stocks are 42% and 37% higher, respectively, since that essay.
I have another example for you, too. It isn't as morbid as the previous one … and if history rhymes, it could make you at least 25%…
Pro-Business Initiatives
In October 2015, the unthinkable happened. Argentina elected Mauricio Macri.
Macri, the former mayor of Buenos Aires, wasn't from the ruling party. And his opponent had a big lead in pre-election polls.
Macri focused on opening the economy to foreign investment and other pro-business initiatives.
The Argentine stock market then doubled over the next 27 months (as measured by the Global X MSCI Argentina ETF [NYSE: ARGT]).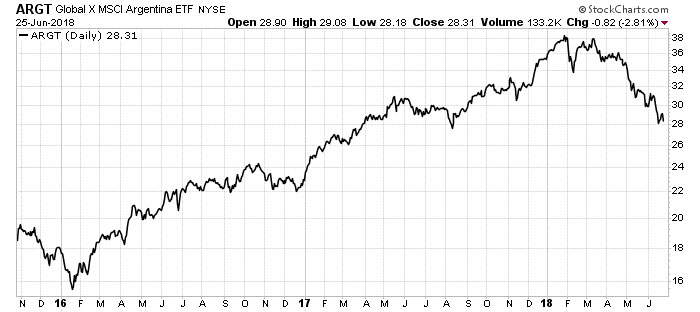 Will History Rhyme in South America?
Argentina and Colombia are both in South America, though they're more than 4,000 miles apart.
Politics recently joined them, however.
On June 17, Colombia citizens elected 41-year-old conservative Iván Duque to be their next president.
Macri himself reached out to tell Duque he seeks to strengthen the relations between the two countries. Duque will likely want to talk to Macri about the free-market reforms he implemented to spur his country's economy as well.
Duque has some ideas, too. Like Macri, he promised to cut taxes and red tape for businesses.
Also like Macri, Duque is open to oil and gas fracking to supplement the country's conventional oil production. Production has fallen 15% from the 1 million barrels per day it was producing just a few years ago.
Efforts like these should lead to more investment in his country. And as we've seen in Argentina (and the U.S. for that matter), tax cuts and deregulation add value to companies and their stock prices. It's that simple.
The Price Is Right
Investors can buy Colombia today at the right price.
The price-to-earnings ratio of the MSCI Colombia Index is less than 15. That's reasonable. Its average ratio since 1996 is 16.7. We'll earn 15% if prices simply return to their historical average.
And we can do even better if Duque makes Colombia a more attractive place to do business. Cutting taxes lets companies keep more of the money they earn.
The easiest way to do this is via the Global X MSCI Colombia ETF (NYSE: GXG). This exchange-traded fund follows the lead of the MSCI Colombia Index.
Good investing,
Brian Christopher
Senior Analyst, Banyan Hill Publishing
Editor's Note: There's no government stimulus package big enough, no interest-rate cut dramatic enough and no tax cut deep enough to prevent the American economy's inevitable collapse. But while this imminent catastrophe is unavoidable, there are very practical ways you can prepare — at this very moment — so that you can stay safe, and even prosper. That's why it's critical you take the time to watch an important new presentation from financial expert Ted Bauman. To watch it now, click here.