The bull market is back!
Well … it's back in China, at least.
After its gross domestic product (GDP) hit a 28-year low in 2018, China's economy is soundly on the mend.
Back in January, China urged banks to increase private-sector lending, while the People's Bank of China cut a key reserve ratio to further encourage lending.
That stimulus was boosted this week when President Donald Trump postponed a March 1 deadline for a U.S. tariff hike. In a statement following the trade talks, Trump said that "substantial progress" was made toward a trade deal.
He also set no timeline for the delayed hike in tariffs from 10% to 25% on $200 billion in Chinese imports.
This lack of a fresh deadline bolstered sentiment considerably and ignited a fresh rally in Chinese stocks.
The Shanghai Composite Index logged its best one-day percentage gain since June 2018. The Chinese benchmark index is now up more than 20% since its January 3 low — typically considered an indicator of a bull market.
After a poor showing in 2018, the Chinese bull market rally has finally regained its feet. As such, if you aren't already, you need to be looking toward Chinese stocks for investment possibilities.
There are more than a few good companies to consider when it comes to investing in China.
I've detailed several in the past two years here at Banyan Hill, including Alibaba Group Holding Ltd. (NYSE: BABA), Baidu Inc. (Nasdaq: BIDU) and iQIYI Inc. (Nasdaq: IQ).
You could easily do well with one of these options. However, considering that the vast majority of solid Chinese investment opportunities lie in the technology sector, there is a better way to take advantage of the new Chinese bull market.
Taking the Tech Mega Trend Overseas
Last week I gave you a one-stop shop for practically every tech mega trend with the Invesco S&P SmallCap Information Technology ETF (Nasdaq: PSCT). This week, we're applying that same logic to Chinese investing.
What's more, Chinese stocks have been beaten down for the past year on tariff fears and GDP growth concerns. As a result, many of these opportunities are trading at steep discounts.
You rarely get the opportunity to buy momentum tech stocks at value-investor levels. And that's exactly what we have in China right now.
To take advantage of this broad rally, we have the Invesco China Technology ETF (NYSE: CQQQ).
The exchange-traded fund (ETF) has had a banner year, rising roughly 23% from its January 3 low, outperforming even the red-hot Shanghai Composite.
And you only need to look at the ETF's top 11 holdings to see why: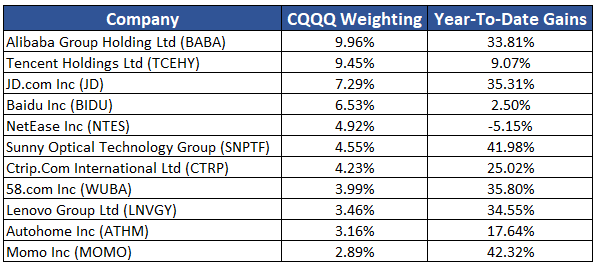 You can see Alibaba as the top holding with a year-to-date gain of more than 33%, but it's not the top performer. That honor goes to Chinese mobile social media firm Momo with a gain of more than 42%.
All top 11 holdings save NetEase, Baidu and Tencent are up massively since the start of 2019.
By comparison, the S&P 500 Index has gained only 11.2% so far this year.
Now may be the optimal time to consider adding CQQQ to your portfolio.
In the chart below, you can see the considerable rally in the ETF during 2017. That rally broke down when CQQQ dipped below its 50- and 200-day moving averages.
Notice the back end of the CQQQ chart? It shows the ETF breaking above its 50-day and challenging its 200-day.
With bullish sentiment providing additional momentum for Chinese stocks, CQQQ is on the verge of finally reclaiming its 200-day moving average and going on a solid run higher.
A breakout above this final trendline is just the buy signal you're looking for to make considerable gains off the renewed bull market in Chinese tech.
Until next time, good trading!
Regards,
Joseph Hargett
Research Analyst, Banyan Hill Publishing