Celebrate American Innovation With This VIP Opportunity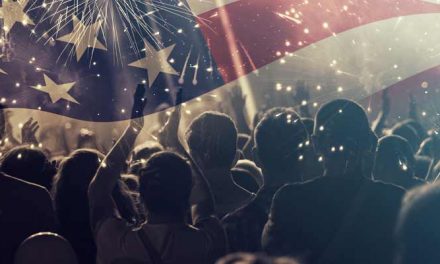 Today I'm getting personal.
Back in the 1970s, when my parents first visited the U.S. from India, what really impressed my father was the can-do spirit he saw everywhere in the states.
He was struck by the sense that Americans believe in doing better by innovating — that good enough is "not enough."
It many ways, that trip laid the foundation for my coming to the U.S. to study economics and business in college — and ultimately my 25-year career in investing.
In today's video, I talk about how this American drive for innovation is what Bold Profits is all about — identifying companies that embrace change and new ways of doing things to make them better.
I also reveal a special VIP opportunity for you — an online event that really honors the spirit of innovation. It will go live at 1 p.m. EST on Thursday, February 21. Click here now for the full details.
Check out my video below.
Bold Profits Daily
February 19, 2019
Hi this is Paul with your Bold Profits Daily. Today I'm getting personal. And I want to tell you a story that is very meaningful to me because in many ways it's responsible for why I'm here today.
Back in the 1970s my mother and my father came to visit the United States. My father just loved being here. He thought that the U.S. was great. He loved how big the place was, how big the roads were, how big the cars were, the fact that people had big houses and just generally liked big living…and enjoyed living in a way that my father was just completely unprepared for.
He came from India. And at the time he was living in Dubai, and still the United States … was something special. I believe that trip really laid the foundation for me to come here, for him to take a lot of his very hard-earned money and use it to send me to college in the United States. And I believe without that trip, I would never be here.
Now, one of the things that really made an impression on my father was also the American can-do spirit. In America, we believe in doing better. Good enough is rarely enough and we are always tinkering. We are always looking to make things better. This in our DNA — to innovate, to change, to make things better. And this is what this Bold Profits Daily is all about.
My publisher is holding a special event — this is going to be absolutely phenomenal — where we are going to be telling you about our service that really honors the spirit of America and innovation — and that's my Extreme Fortunes service.
You're going to be sent an email that's going to invite you to this event — it's a revolutionary event. If you choose to go forward you are going to have the chance to invest in a company that is groundbreaking and we are going to be able to get in at the ground level. In other words, all of the upside is still left.
This is what my Bold Profits Daily is about: America, its innovation and how it's in our blood. I'm thrilled to see that, in the last few years, we're back. America is back to innovating. We are seeing companies that are pushing the edge in so many fields — whether it be in space exploration, in robotics, in artificial intelligence — and I'm proud that in all of our services we choose to support and invest in this incredible American tradition.
With that same sense, I invite you to join me in the event my publisher is holding. Look out for those emails.
If you can't attend, and you'd like to support American innovation, go ahead and make an investment in… the ARK Innovation ETF (ARKK). This ETF invests in many of the companies that I look at, that I consider and are in all of the services that I currently author for my company Bold Profits.
So that's my Bold Profits Daily for you today. An invitation to a revolutionary event where we honor the American spirit of innovation. If you can't attend, go ahead and invest in ARKK, which is the ARK Innovation ETF.
I'll have another one for you next week. Until then, this is Paul saying bye.
My Revolutionary Wealth Summit Webinar
Now that you've heard about the phenomenal opportunities tied to innovation, I want to tell you a little more about my VIP event this week.
It's my Revolutionary Wealth Summit webinar.
During the event, I'll share details of my No. 1 investment for 2019 — an innovative medical company that will see its stock value soar 4,500% in the months and years to come.
But be aware: You must RSVP for this free event no later than midnight EST tonight, Tuesday, February 19, by clicking here.
Another way you can support American ingenuity is to buy into an exchange-traded fund (ETF) that invests in the companies that do all of the things I look for in a true innovator.
It's the ARK Innovation ETF (NYSE: ARKK).
That's all I have for this week. I'll be back next week with another Bold Profits Daily.
Regards,
Paul Mampilly
Editor, Profits Unlimited
Editor's Note: After minting new millionaires…
After hundreds of thousands of dollars in profit…
After real-time, field-tested proof that his strategy works…
Paul is finally sharing his proprietary, three-phase investment strategy with the public.
FOR FREE.
You can be one of the exclusive few who get the full details. But you must secure your VIP spot for this event immediately.
The invitation expires tonight, Tuesday, February 19, at midnight EST.
To lock in your FREE VIP seat now, click here.