Buy Into Stocks That Are Rebounding for Rocket Returns
---
Story Highlights:
New Bold Profits strategy posts big, fast gains.
Beat Wall Street insiders at their own game to build your fortune.
Investment technique spotlights stocks that can make double-digit gains in mere days.
---
True confession: I hate cable TV.
And I have lots of company. That's why video streaming services have taken off in the past five years.
They're cheap, convenient and better than being shackled to a cable box. They're also a huge opportunity for tech-minded investors.
My go-to service, for instance, has beaten back cable and tech titans Apple TV, Google Chromecast and Amazon Prime.
In the process, its stock price has soared, along with the number of active users, which has grown for 19 quarters in a row.
The company has been a rising star since it was added to our True Momentum portfolio last December. It's already up 194% since then.
Which is why it was surprising that its stock price dropped two weeks ago.
On May 13, the company's stock fell 4% as the Dow Jones Industrial Average tanked in response to news of a looming U.S. trade war with China.
Within days, the stock rocketed back — climbing 12% to an all-time high — even though uncertainties about trade negotiations haven't gone away.
So, what happened? The answer is what's called "market manipulation."
Knowing what market manipulation is — and how traders use it to swoop in and make a fortune — can help you beat the Wall Street insiders at their own game.
Beat Market Manipulators at Their Own Game
In simple terms, market manipulation happens when Wall Street insiders create turmoil in the markets, artificially depressing stocks.
This allows traders in the know to buy up shares at bargain-basement prices, then make a bundle when the stocks head back up.
It's sneaky and tricky. But if you know how they do it — and the telltale signs to look for — you can capitalize on it.
The Bold Profits team has developed a technique for spotting what we call "rebound stocks" so you can make the right picks at the right time.
This technique is the centerpiece of a new strategy Paul Mampilly and Ian Dyer have developed.
Paul will be showing a small group of investors exactly how it works next week during his Rebound Profit Summit. To join this group and get the first look at Paul's new strategy, click here to register now.
By using Paul's new method, you could have had the opportunity to post a 120% gain in less than two weeks playing the rebound on this video streaming company this month.
It's perhaps the best way to act on the investors' mantra: "Buy low, sell high." It can give you the key to determining when a stock is poised to skyrocket after a fall.
Buying Into Rebounding Companies
Just look at what happened this month with all the news about the ongoing U.S. trade negotiations with China. The Dow shed hundreds of points over several days, losing 1.8% on May 7 and 2.4% on May 13.
Market manipulators seized on the news, which preyed on investors' fears, and many companies saw big stock declines.
But it's important to keep in mind these are temporary stock declines resulting from highly publicized events like China-U.S. trade negotiations, a plane crash or some other external event. And they won't last for companies that have a sound business plan and strong financials.
Those drops are a great time to buy more shares in such companies.
Like my favorite video streaming service.
Buying into a rebounding company, you can pocket double-digit gains.
It does take a leap of faith when your investments are suffering through market dips. But the payoff can be huge.
You can learn more about this strategy by signing up for the Rebound Profit Summit hotlist. To do so, simply click here now.
Until next week…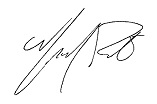 Nick Tate
Senior Editorial Manager, Banyan Hill Publishing