ARKK Update After 58% Fall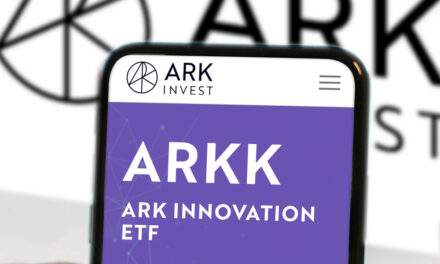 ARKK.
The disruptive, innovative, America 2.0 exchange-traded fund (ETF). Are we selling after its 58% drop?
Not a chance. I'm buying more!
As I've been telling you, staying IN — through market crashes, inflation, interest rate spikes, even wars — is when it absolutely matters the most.
The tide is turning back to growth stocks. And I believe we're going to see another surge of acceleration.
If you think this volatility is rough, check out the mystery chart Amber reveals today.
And Dan is going to give an outlook on three stocks in ARK Innovation ETF (NYSE: ARKK) that can help the ETF shoot higher and hit his 2022 price target of $250 a share.
Before you go, I want you to hear this…
Amber Lancaster: ARK Innovation ETF will reach $250 this year, a 280% rise from its current price. This ETF price target by Dan Shifflett, investment analyst on the Bold Profits team, has us watching ARKK's performance like a hawk. Investing in ARKK's basket of securities is no doubt taking a bullish position on innovative companies.
Hello and welcome to Market Talk Monday on the Paul Mampilly YouTube channel. I am Amber Lancaster. Thank you for tuning in. We are recording today's Market Talk on Friday, February 25. If you haven't had an opportunity, please watch Paul's market outlook video posted on February 24 to get his perspective on market volatility and the Russian Ukraine conflict.
ARKK Break Down!
Today, Dan will be joining to give an update on ARKK and three ARKK stocks that are ripe for a rebound. But first, please remember to like, share, subscribe and post comments to this channel as it does support the channel. Let's begin. Since its inception date on October 31, 2014, ARKK is an ETF that's focused on investing in equities securities of companies relevant to the theme of disruptive innovation.
From the genomics revolution to industrial innovation, ARKK is all in.
Since inception, the ETF's total return is 254%, but ARKK has its skeptics based on its recent performance. At one point since inception the fund reached a total return high of 737%, but has since dropped about 58% from its high in 2021.
ARKK fund manager Cathie Wood is undeterred by this decline. She has confidently predicted that certain stocks in her fund would return to pandemic highs. We agree. ARKK and stocks represented in ARKK are ripe for a rebound. Disruptive technological innovations are dynamic and worth the investment.
To demonstrate this point, check out this mystery innovative company's stock chart.
Imagine buying this stock for $106 per share in 1999 only to see your investment plummet by 92% by 2001. Most would have given up and cashed out. Most did.
For the few who held on with strong hands and believed where this tech stock could go, they held only to see another massive drop of 65% in 2008. What a roller coaster. But those who were long-term bulls with persistence and patience who held on would have realized a huge payday.
Zooming out you can see I am talking about Amazon.
who believed in Amazon's disruptive vision and held on tight have realized a total return of more than 3,400% just since 1999. That's some rebound. The companies in which ARKK invests and the companies Paul recommends across his services — like Profits Unlimited — are these types of America 2.0  innovative stocks of the future with great potential for gains.
Yes, these will see big declines along the way of 58%, 68%, even 92%, but as long as their technology and themes are sound and conditions are right, the sky is the limit.
Will ARKK Hit $250 Per Share?
Let's bring Dan on now to answer a few questions on ARKK and get his take on ARKK companies ripe for a rebound.
Hello Dan. How are you?
Dan Shifflett: I am well. How are you?
Amber: I am well. Thank you so much for joining me today. To begin, I just want to say that you have touched on a subject that has sparked a lot of people's interest. ARKK, love it or hate it, people are talking about it. I know you have even received your share of questions on your price target of $250 from readers such as Hardy P.
They just want to know if you are still bullish on ARKK given its recent given its recent volatility.
Dan: Definitely. ARKK is definitely volatile, but you have to keep in mind that in 2020 and 2021 it went up 200%. Right now it's down significantly. I believe just since November it was more than $100 and this Thursday it dropped below $60. That's a 40% decrease in just three months.
Just as fast as it goes down, it can go up just as quickly. It's really important to keep that in mind. Also, ARKK has been shorted with 17% short interest. That means these people are going to have to come in and buy up a lot of ARKK.
When the tide does turn and growth does rebound, a lot of people are going to come into ARKK and buy it all up. We've seen that growth stocks throughout COVID have done well. They have continued to grow as a company and accelerate the whole growth process.
When it does rebound, I think a lot of growth will go up a lot faster than people might realize.
What Three Stocks Are Ripe For Rebound?
Amber: I like what you said there, Dan. When the tide turns, it will turn for a rebound. Fingers crossed for sure. While I have you here, I promised we would hear from you three ARKK stocks that are ripe for a rebound. I'd like to get what you think those stocks are and why you think it's going to happen.
Dan: The first stock I think can rebound would be Robinhood. Robinhood is a free trading platform that allows people to come in and buy stocks and even some crypto. It's essentially free, so a lot of retail investors like to use Robinhood.
In 2020 they had 12.5 million users. They almost double that to just over 22 million in 2021. A lot of people came in and started using Robinhood, which is exactly what you want to see in growth stocks. Truthfully, when COVID happened a lot of companies crashed.
When everything rebounded, that's when we saw a lot of people come in, start using Robinhood and bidding up stocks. We had a lot of crypto, as well as meme coins. We had an overall bull market and Robinhood prospered from that. I think you can see that when we come off these lows and the fears from inflation.
In addition to that, Robinhood is extremely easy to use. The platform is targeting younger investors and new investors. They make it simple for a lot of people. I think it's also important to keep in mind that Robinhood is down 87% from its all-time high of $85.
When people come back in Robinhood, I think they will bid up the stock price.
The next company I would say has potential for a rebound is Coinbase. Coinbase is down 60% from its all-time high. They had 43 million users at the end of 2020. They more than doubled that in 2021 to 89 million users. You can see that's incredible growth in one year.
Coinbase is easy to use. Whenever someone asks me how to buy Bitcoin or Ethereum I usually lead them to Coinbase. They are friendly, it's easy to link your bank account or credit card and purchase not just BTC and ETH, but a ton of coins on there that a lot of people like.
I think it will be beneficial for a lot of people. Coinbase has two features I really like. One of them is a staking feature. Some of the coins you can buy you can keep on Coinbase and you don't have to do anything, but every couple days or week there will be coins that get dropped in your wallet.
You don't have to pay for them. It's free. I think that's going to do really well for a lot of people if there is a downturn in crypto. They are going to keep engaged because they are going to keep getting coins and don't have to do anything. It will keep user engagement up.
Another thing would be a tax center. A lot of people new to crypto might not know how to pay taxes on it or if you have to. Yes, you definitely have to, but Coinbase makes it easy. You click a tab for where you live and it shows you how to do it. I think that also plays nicely for the government.
The government is always looking at crypto, keeping an eye on it and making sure companies are following the rules of regulations. I think Coinbase having that tax center on there, they aren't going to have issues from the government.
The last one I think can do really well is DraftKings. DraftKings is a sports betting company. It's legal throughout the states and into Canada. They did $1.3 billion in 2021 in revenue and are projecting growth of 50% in 2022 and another 30% in 2023. They have been focusing on their growth and user acquisition.
They have also been spending a lot of money on legislation. For online gambling and sports betting there's a lot of red tape they have to cut through. DraftKings has been proving to do exactly that. Like I said, they are all throughout the states and into Canada.
I know they are talking to companies overseas. They are really trying to grow. Last week they reported earnings that were great, but the stock price dipped. I believe they dipped because their operational costs were higher than they expected.
If you look at it in the long term, these operational expenses are for all the expansion they've been doing. Once they get customers and these customers keep coming back, the revenue is going to keep growing and their user base is going to keep growing. I think they're setting themselves up for the long haul, which is really what you want to see in growth stocks.
Just like Coinbase and Robinhood, their platform is easy to use. I have used it myself. I have played with friends. It's very simple. In this day and age people want things quick and at their fingertips. Robinhood, Coinbase and DraftKings can all be an app on your phone.
You can sit on the couch and do it and have fun. I think all these companies are going to growth their user bases, which will grow their revenue. In time, people will see how much the revenue is growing, the platforms are growing and people will come in and bid up these stocks.
Amber: Dan, I just enjoyed hearing your breakdown of why these stocks are primed for a rebound. Despite their recent declines, they really show promise. Thanks for tuning us in and helping us hone in on Robinhood, Coinbase and DraftKings. Thanks for joining us today.
Dan: Thank you for having me.
Amber: You're welcome. Take care.
A big thank you again to Dan for joining us today. Thank you for tuning in as always. Remember, you can follow Paul and me on Twitter: @MampillyGuru and @ALancasterGuru. If you want to stake your claim in America 2.0 and disruptive innovations, I encourage you to check out Paul's Profits Unlimited research stock service.
It's really a great way in. To learn more, click the strong hands to get the details. Have a great week ahead. Until next time, take care.
Regards,
Editor, Profits Unlimited