Your November 2015 Issue of Strategic Investment Is Ready
The U.S. government has gotten out of control.
With crony capitalism running rampant, and our leaders invading every aspect of our lives, the current U.S. government is too large and too powerful to last much longer. Something's gotta give: And it may very well be the states who start the devolution from large national government to smaller state government.
In this month's Strategic Investment, James Dale Davidson examines the American government's worsening situation — and the disturbingly predictable cycle that's pointing toward America's economic collapse.
We also discuss:
How America's unfree economy is costing you $125,000 a year.
Why the United States' approaching downfall is a mirror image of another great empire's collapse.
A stock play that will allow you to take advantage of the crumbling commodity sector.
To read this month's issue, click here.
Take care,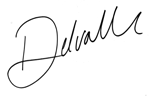 Charles Del Valle
Editor, Strategic Investment