Higher Interest Rates No Matter What
For the Federal Reserve, managing market expectations is like threading a needle.
The Fed has to release enough information to let investors know what's set to take place in the coming months, but not get ahead of itself.
This time around, the Fed let us all know an interest-rate hike was on the way. What wasn't known was whether the Fed would increase the number of hikes it planned for the year.
After today's rate-setting meeting, it appears the answer is no. Fed Chair Janet Yellen expects to raise interest rates only two more times this year, taking us to a range of 1.25% t0 1.5% by year-end.
The exception?
If President Trump makes good on his promises and stimulates the economy through government spending and reduced regulations … then we might see another hike or two.
Still, it has to be noted that the Federal Reserve is tightening the money supply just as oil prices are collapsing again. The last time we saw an oil price decline, an earnings recession followed. This time, it seems American producers have sufficiently hedged themselves for oil prices of $40 a barrel.
But with more supply coming online in Iraq and the U.S., along with a reversal of a third of the output cut in Saudi Arabia, it seems oil prices are going to stay low for some time.
Making matters worse is that demand for oil just isn't very robust. This tells you something important about our economy.
Remember, our country — with its vast highway and road system and suburbs everywhere — was built for driving. It was fashioned at a time when we had ample access to cheap gasoline. As a result, we drive for just about everything.
When demand for gas falls, it tells you people are driving less. They're taking fewer trips to the store and fewer vacations. In other words, they're spending less. And consumers typically only spend less when they're worried about the future.
This may seem strange considering consumer confidence is peaking right now. But sometimes, it's better to pay attention to what people are doing rather than what they're saying. I've seen too many people say one thing and do the opposite.
When it comes to the fickle consumer, this could certainly be the case.
Looking at even more data, it's hard to conclude that our economy is performing strongly enough to justify much higher interest rates. The expectation is for GDP to go up less than a percent for the first quarter of 2017. And consumer spending has only climbed 0.1% over the last month.
Nothing booming about that.
When I look at the velocity of money, it's still down. So money isn't changing hands any faster than it was last year.
When I look at real estate, I can't help but notice what appears to be major deflation in the retail property world. Some economists have said we will lose 1,000 shopping malls in the next few years. With companies like Macy's and Sears shuttering stores, I don't doubt this.
And if we were to have a major negative economic event take place in either China or Europe — which we highly expect — then we wouldn't just see retail storefronts closing their doors. We'd see an outright recession taking people's jobs away.
Of course, if you look at the stock market, you might think none of this is true.
The Dow recently hit new highs and, with the interest-rate announcement, seems to be on the verge of even higher highs.
But in many ways, what's happening right now is the calm before the storm … the party before the hangover. While investors are enamored of a market that seems to tick higher by the day, the reality is that just under the surface, everything is slowly coming apart.
We know this because it's our job to pay attention to the subtle signs that tell us an inflection point is on the way. But for those not paying attention … when the market falls, it's going to take them by surprise.
In the meantime, as always, we'll keep investing where we think there is money to be made. You can check out the open portfolio by visiting www.banyanhill.com.
To access the portfolio, simply log in on the top right corner of the page. If for any reason you can't locate your login information, you can click here to access our login helper.
Take care,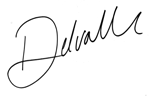 Charles Del Valle
Editor, Strategic Investment