America 2.0's "Sleeper Sector" — Best Stocks for 2020
When it comes to investing, no sector is considered more blah than industrials.
It's a sleeper.
So you might wonder why this sector is on the top of my list this year.
Well, just think about when I first mentioned the Internet of Things … blockchain … and artificial intelligence.
Sure, these sound a little sexier, but there was still doubt. When you fast-forward to today, we've made incredible gains investing in these mega trends.
Now, industrials will grow into the next force to be reckoned with. Every major mega trend that we follow as part of America 2.0 feeds into this sector.
I stand by my prediction. Industrials are THE place to put your money in 2020 as America 2.0 unfolds.
Check out this week's Market Talk and find out why this "sleeper sector" is about to get a huge wake-up call:
Industrials are the sleeper sector. But there's also one HATED market we have to talk about.
While the smart money is stuck looking to the past, we have our eyes forward. And I've identified one area that's going to take off like alcohol did post-Prohibition.
Be sure to watch today's Market Talk at 9:54 – 11:34 to find out how you can get the best stock from this hated market.
Market Talk February 10, 2020
We've been hearing reaffirming discussions from the Federal Reserve members in recent weeks.
Fed Reserve Governor Michelle Bowman who recently said, "The U.S. economy is in a good place with the unemployment rate expected to remain low and the inflation rate predicted to rise gradually to the Federal Reserve's 2% target." [1]
Philadelphia Fed President Patrick Harker has similar sentiments when he recently said his outlook for the U.S. economy remains positive as the "data show the labor market is doing incredibly well and the economy is nearing our target inflation rate of 2%." [2]
Meanwhile, this week we can look forward to Fed Chairman's Jerome Powell's sentiment when he produces a semi-annual policy report that he will deliver to Congress on Tuesday and Wednesday.
Last week we saw a number of U.S. economic releases exceed expectations.
One was the Institute of Supply Management's Purchasing Managers Index, or ISM Manufacturing, reading.
The gauge showed U.S. manufacturing rebounded sharply in January, beating estimates and pointing toward growth.
We also saw a massive jobs gain in January as U.S. companies added the most workers since 2015.
Construction and manufacturing jobs saw some of the largest gains with hiring in construction jumping 47,000, the most in a year.
While manufacturing jobs showed a 10,000 increase, the largest gain in nearly a year.
Where upcoming economic releases are concerned, there will be four major releases occurring the latter half of this week.
On Thursday, February 13, January CPI month-over-month will post at 8 a.m. Retail sales advance month-over-month for January will post on Friday, February 14, at 8:30 a.m.
Also on Friday, industrial production month-over-month for January and February's preliminary University of Michigan sentiment reading will post at 9:15 a.m. and 10 a.m., respectively.
Volkswagen Joins The Electric Car Revolution
In an effort to stay viable, Volkswagen is changing the game on its Passat sedan.
According the Motor Authority, Volkswagen will likely transform the Passat into a battery electric vehicle.
In its heyday, the Passat sold around 100,000 units per year.
Last year it was just over 14,000 units.
To turn this declining trend around, Volkswagen has announced two electric battery redesigns for the Passat and the Passat Wagon and make way for the ID Vizzion and ID Space Vizzion.
Per Motor Authority, "The concepts are based on Volkswagen's MEB modular EV platform and offer up to 300 miles of range based on the EPA's test cycle. An 80% charge in as little as 30 minutes when using a 150-kilowatt charger is also possible."
We talk a lot about new versus old companies here at Bold Profits.
To compete in America 2.0, established companies that don't innovate will eventually die and replaced by tech innovators.
Volkswagen aims to keep its brand going by embracing the EV revolution.
The ID Vizzion is already confirmed for production around 2022 and the ID Space Vizzion will be produced around the same time.
A Surge for The Housing Market
A recent Gallup poll revealed that 90% of Americans are satisfied with the way things are going in their personal life, a new high in Gallup's 40-year trend. [3]
The latest figure bests the previous high of 88% recorded in 2003.
Gallup also found there is record-high optimism around personal finances.
In the U.S. American's views on their personal financial situation has been climbing since 2018 and are now at or near record highs in Gallup's trends. Nearly 6 in 10 Americans, 59%, now say they are better off financially now than they were a year ago, up from 50% last year.
Finally, per HousingWire, U.S. inventory for homes for sale has reached a record low. [4]
From a Bold Profits economic perspective, we are currently bullish on U.S. homebuilders, so this record-low inventory means one thing when coupled with the millennial and Gen Z surge: more affordably priced, single-family homes are coming to the housing market.
As HousingWire pointed out, it looks like more builders will be getting off the sidelines this year. Single-family housing starts probably will rise to 975,000 this year, the highest level since 2007 according to forecasts from Fannie Mae. That would be a 10% gain from 2019.
This essentially confirms what we have been telling people for a couple years. It took us a little while to put the America 2.0 term and brand around what it is, but it's all happening right now.
All our data is pointing to it.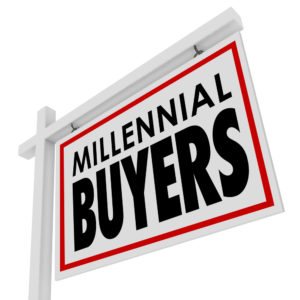 In the last 20 or 30 years in the housing cycle, people have been migrating from the center of the country to the coasts. Now we're seeing a reversal back.
People are going south and back to the core at the center of the country.
That's where the industrial base of our great nation is.
At the end of 2019, we said industrials are a very under-owned part of the stock market.
People said, "Industrials? Really?" It's so unhip, it's so uncool.
However, the shift in the housing market makes clear that there is something going on in the there.
It then lends itself to all of those megatrends.
See, by themselves, the industrials sector has limited use and potential, but applied to all sectors, the way it will be in the next few years, that will be massive.
That's the Fourth Industrial Revolution, that's America 2.0.
That's the boom that is driving wages higher, productivity higher and economic growth higher.
That's America 2.0 unfolding right in front of you right now.
America 2.0 Will Change The World: Don't Be Left Behind
People write and say, "Paul, I can kinda see it. You've been right about the Internet of things, you've been right about artificial intelligence, you were right about new energy."
Everyone is just looking at one piece at a time.
What we are doing at Bold Profits is looking at the whole things in full, in the layers that makes up the whole.
One contributing factor is the upcoming generation. The 93-million-strong millennial generation is making money and they are starting to spend money in a big way.
You can see that in stocks like Tesla. The Model 3 is a car that I would bet is owned by a lot of folks in the millennial generation.
When that Model Y comes out, it's going to be huge.
From my experience in the boom of the 1990s, the vast majority of people are going to miss out.
The media is not telling you about this.
They are worried about stock prices because they keep looking backward.
Media analysts are modeling their thinking on the past.
America 2.0 and the Fourth Industrial Revolution requires you to look forward, which means you do have to make some judgments.
You do have to put together a future.
The market is confirming what we think.
In another time you would have wanted to own alcohol stocks in the 1960s and 70s when people thought it was terrible.
Today, there is that same knock on cannabis stocks.
However, I can tell you that we are still bullish on cannabis stocks.
This week my publisher is running a special on Extreme Fortunes, which is my small-cap service. It's an amazing service. We have 500% winners, 300% winners, a ton of 100% winners.
Our goal in this service is to go for 1,000% with every stock.
Join us, join America 2.0.
Regards,
Editor, Profits Unlimited
Sources:
[2] Fed President Patrick Harker
[3] Gallup: New High of 90% of Americans Satisfied With Personal Life
[4] Housewire: U.S. Inventory of Homes for Sale Reaches Record Low