Next-Level AI "BioBots" = Unlimited Profit Potential
---
Story Highlights:
Medical robots are leading a new biotech revolution — helping paralyzed people walk again, delivering drugs and pain meds, and even assisting hospital nurses and surgeons.
Here's the best way to buy into the global market for robotics, which is projected to skyrocket 1,180% — from $39 billion in 2017 to $499 billion by 2025 — and grab double-digit profits.
I also tell you about an AI opportunity that's risen more than 33% since Paul Mampilly recommend it.
---
This is not science fiction.
A young Frenchman identified as Thibault took his first step in two years.
A spinal cord injury left him paralyzed from the neck down. But, using a first-of-its-kind robotic "exoskeleton," he was able to use his mind to control all of his limbs again.
I have to say again … this is not a scene from a movie. This is just one example of how remarkable real-world robotics are changing the world every day.
And here's the kicker: The new robot revolution in biotechnology and other artificial intelligence (AI) industries is only just beginning. And, of course, it all adds up to a blazing investment opportunity that I'm excited to tell you about today.
Once you see this incredible technology at work, it will erase any doubts you have about this opportunity.
Just take a look at this Aliens-like innovation.
Buy Into the Robotics Market … Before It Reaches $499 Billion
You can see how Thibault uses this exoskeleton in this video released by university researchers and published in The Lancet Neurology journal.
Just take a look at the image below that shows how he went from wheelchair to walking thanks to incredible AI technology.
If you look at the numbers, like I do, you'll see that robots are already very popular with businesses and consumers alike. For instance:
Last year, North American companies ordered a record number of robots: 36,000. That's 7% more than in 2017, according to the Robotic Industries Association.
That figure is projected to skyrocket over the next five years. The global market for all robot types will grow by 1,180% — from $39 billion in 2017 to $499 billion by 2025, according to the latest market research.
And the AI robotics industry alone will become a $12.4 billion industry by 2023. That's up from just $2.8 billion in 2017 — so the market is growing annually by nearly 29%. That's huge.
And robots aren't just making inroads in manufacturing and industrial settings. Chances are you're seeing robots and robotic devices pop up in your daily life as well.
And I'm not just talking about AI-robotic assistants such as Amazon's Alexa and Apple's Siri, which are popping up in households across the country.
Robotic technologies are assisting doctors in a wide variety of surgical operations — from cancer to heart disease to brain surgery.
British researchers from the University of Bristol have created a new line of robotic trousers (seen in the image) that could help disabled individuals walk again.
Swiss scientists have created the first biodegradable microscopic medical robots — 1,000 times smaller than the period at the end of this sentence. They're designed to clear clogged arteries and deliver drugs and painkillers at the cellular level.
And we're even seeing a new breed of humanoid robots showing up in hospitals, banks and other places everywhere — robots such as SoftBank's Pepper, seen here in a photo from a recent interview I did with her.
As a result of advances like these, I believe the rise of robots large and small is going to have a massive impact on health care and other industries.
What this tells me, of course, is that there's a great investment opportunity in the mega tech and biotech trends we're seeing in robotics and AI.
2 Ways to Buy BioBots' Unlimited Potential
As you probably know, AI is one of the mega trends at the heart of our Bold Profits services.
The way I see it, investors who act on the profit potential of robotics now stand to make a bundle of money, while at the same time boosting remarkable innovations that are helping people live longer, healthier and better lives.
People like Thibault, the young man featured in the opening of this article.
Why shouldn't you be one of the investors who is doing well by also doing good?
So, here are two ways you can profit from the AI revolution:
Paul Mampilly found an AI company that's on a 33% tear since he first recommended it. But that's only the beginning when it comes to what he sees coming for AI. I'll let him explain it all here and show you how you can grab these front-runners today.
Another way to leverage the rise of robots: Invest in an exchange-traded fund (ETF). I recommend the Global X Robotics & Artificial Intelligence ETF (Nasdaq: BOTZ). The fund holds a portfolio of about 30 companies at the forefront of robotics and AI. Since January, the ETF is up nearly 20% — beating the S&P 500 Index.
Before I go, I have a question for you: Is there a way robots have had an impact on your life that you'd care to share with me? If so, email me at boldprofits@banyanhill.com, and I may feature your story in an upcoming column.
Until next time…
To your health and wealth,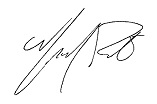 Nick Tate
Senior Editorial Manager, Banyan Hill Publishing