7 Super-Trades for America 2.0
The stock market is always looking forward. It anticipates where we're heading.
And right now, we're moving toward our America 2.0 bull market.
This period of social distancing did something that a lot of us didn't expect. It paved the way for certain stocks to ROAR to life.
Industrials. Cloud computing. Digital technologies.
We've been telling you that we're more bullish than ever. And to prove it, Paul and I have seven super-trades to leverage the market's rebound.
Watch below to see why we're extremely #BOP (bullish, optimistic, positive) and the sectors we see bouncing back the highest:
America 2.0 is happening now.
The biggest mistake you can make as an investor is to get stuck in the old-world dinosaur stocks that will eventually become extinct.
The best move you can make to be a profit-taking 2020 investor is to invest in America 2.0 now.
The Recovery is Priced In
Like we've said over and over, when there's a panic like this and a quick selloff, the market is pricing in a really bad scenario. So, it's looking into the future and it thinks something bad is going to happen. In this case, an almost complete shutdown of the economy because of this virus.
However, it's also going to be forward looking in the case of a recovery of the economy. Once stores and restaurants start opening back up, that's going to be a huge 180 in the direction of our economy. The market, we believe, is going to price that in sooner rather than later because it is forward looking.
You still see things are closed down and the unemployment numbers coming in and the market is up. People were already anticipating that. People are getting confused how record unemployment claims are out there and the market is up at the same time. It's because the market knew that was coming.
Everyone knows businesses are shut down and people are filing for unemployment, but they also know that when things recover, there are more than six million jobs out there available that were already available before all of these companies closed their doors temporarily.
It's going to be a strong recovery and the market knows that. The market is going to price that in sooner rather than later.
Many people are anticipating. We've seen all the different alphabets.
There's the U recovery, the L recovery, but personally, we believe it's going to be a V recovery because we remember what an event-based market crash and economic recovery looks like.
In other words, this is an event that's going to pass and then after that there's no great problem that we have to work through.
The banks are not out of money, there's no real estate bubble, there's no stock bubble, there's no asset bubble, there's nothing the economy must work through.
Right now, four or five states are generating most cases, so many states are going to come out of it way sooner. Once this virus goes through our country, we're going to see a pretty strong V bottom at the stock market. Markets anticipate.
Businesses are Optimistic as Digital Picks Up The Slack
Cloud-computing companies are experiencing a massive uptick in traffic and are scaling up as fast as they can to meet the sudden demand.
We've already seen some companies say that this isn't hurting their business too much and they see it as temporary.
This is especially true of some of the leading semiconductor stocks and leading cloud stocks. They are benefitting from this because it raises the demand for their products.
The best way to benefit from cloud-based stocks is through an ETF: Global X Cloud Computing ETF (Nasdaq: CLOU).
Cloud computing is taking off and leading the way for the future of work. The cloud is going to be a centralized workplace.
The Shift From a "Made In China" Manufacturing System
Over the last 20 years, we have shifted the making of things to China.
We are going to bring that back, which tells us that the industrial economy in the U.S. is going to roar out of this.
It's a great time to buy industrial stocks because a bunch of them got hit really hard but they should bounce back even higher.
Many people think industrials are dull and boring. No.
The industrials are going to use high-tech, 3D printing, automation, lasers, robotics and generally all the things people associate with technology.
Older industrial companies are adopting automation, robotics, 3D printing and things like that. They are adapting really well.
These companies don't have to make as big of a switch as, say, a car manufacturer trying to make the switch from an internal combustion engine (ICE) factory to an electric vehicle (EV) factory.
Instead, these manufacturers are going to change the means of production. We are going to see a shift to modern production means.
Because of the fact we have shipped the making of things to China, on some level, American manufacturers haven't invested that much into keeping the old ways.
So this is when we will see the change. This is all part of the reshaping of America. This is America 2.0.
Will Housing Be the Next Boom?
Then the second place you are going to see a huge rebound is in housing.
Housing is tied to industrials and housing stocks took a huge dive, which means housing stocks are a good buy as well.
The ETF for that is the iShares U.S. Home Construction (BATS: ITB). We like to recommend it. You get a whole bunch of housing stocks just from buying a share of that.
A couple housing companies reported earnings and reported that they believe this will be a temporary hit on their business and but as severe as they thought it would be.
Companies like Lennar and KB Homes are more than positive and Zillow and Redfin announced that virtual showings are skyrocketing.
People are still buying houses, there's still a housing shortage. The whole millennial generation clearly has a high demand for buying new homes.
We are still bullish, optimistic and positive.
Bitcoin Halving & Long Term Holders
The drop in Bitcoin was such a false indicator of it crashing.
It's not going to stay around for long. It's already recovered and it's already almost to where it was before that. Yes, The Halving is coming up.
It all comes down to supply and demand when you are trading any asset or investing in general. You want there to be much more demand than supply.
The supply for new Bitcoin is about to be cut in half. It doesn't happen in the stock market, it doesn't happen anywhere else.
It's a very important event. You can see by looking back at other Halvings, the price takes off for two years after that.
We've noticed a lot of demand for other cryptos too. People are starting to talk about them, which is great.
You are seeing a lot more interest in some of the smaller ones that we've talked about before as an example of a return of a bull market.
The number of wallets and addresses that have not touched Bitcoin in more than a year is a huge majority.
So people are holding it for a year or more. These are people who don't plan on selling anytime soon. That kept happening even after that big drop.
That proved the demand is real and people are in Bitcoin for the long haul.That decreases supply even more and demand is going to pick up.
Unbelievable: Tesla is Not In the S&P 500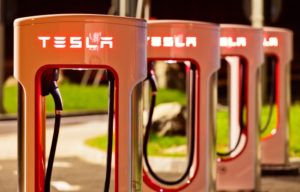 Tesla is not in the S&P 500, which is crazy because it's worth more than all the other car companies combined.
Tesla was now worth more than Boeing.
GM and Ford is in the S&P 500, but there's no Tesla. You could put all those together and they are not worth what Tesla is worth.
Macys is in there too and it's now a small-cap stock. Is this more proof that the S&P 500 is still focus on old world stocks?
Who knows what the S&P 500 committee looks at to consider what should go in. It's clear these companies are going away and unlikely to survive past the next three to five years.
Tesla is going to be around and is going to go from strength to strength in our judgment.
This is based on the products they have, the fact it's a beloved brand and they are the leader in three or four industries: electric vehicles, autonomous vehicles, battery technology and solar power.
Marijuana Burning Up?
Has ETFMG Alternative Harvest ETF (NYSEArca: MJ) has bottomed out?
Quarantine has boosted pot sales.
We've seen reports of lines longer than it was first legalized. Companies are starting 24/7 delivery services. There is so much demand out there for this.
We said at the beginning of this year that MJ was going to go up 100% and we still think it can.
Stay Bullish, Optimistic and Positive #BOP.
Regards,
Ian Dyer
Editor, Rebound Profit Trader